RACING THIS WEEK
FEATURES
SERVICES
Apollos Second Sign – Fastest Qualifier in Speedhorse Lone Star Paint & Appaloosa Futurity Trials.

© Dustin Orona Photography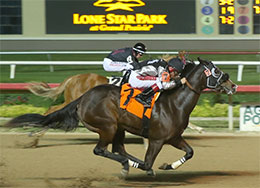 Apollos Second Sign Fastest Qualifier Friday For Speedhorse Lone Star Paint & Appaloosa Futurity
GRAND PRAIRIE, TX—OCOTBER 13, 2017—
In the second Lone Star Speedhorse Paint & Appaloosa Futurity trial Apollos Second Sign kicked it in gear late to win by ½ length over favorite Bully Pulpit. It was the fastest time of the two trials finishing the 400-yard race in 20.121 seconds. It was another length back to third place finisher Hotwiredotcom.
Trained and owned by Michael Moss and ridden by James A. Flores, Apollos Second Sign, a daughter of Second Painted Sign broke well and chased the leader until gaining the advantage halfway to the finish. The track was listed as fast for both trials.
Winning mutuels on Apollos Second Sign returned $9.20, $4.80 and $2.20. Favorite Bully Pulpit returned $2.80 and $2.20, and Hotwiredotcom returned $2.10 for the show. Gb Star, Cajun Prize, Hurricane OJ and Js Chickenpox completed the order of finish.
Jockey Ricky Ramirez guided second fastest qualifier Ojo Por Ojo to victory in the first trial. The final time was 20.206 making him the second fastest qualifier. Favorite Dtl Samureye finished ¾ length behind the winner, and it was another ¾ length to third place finisher Ima Good Time Charley. El Diablo Chicken, Mkp On the Wagon, Js Apollo Six and Neon Bullet completed the order. All but Neon Bullet qualified from the first trial. The remaining four qualifiers advanced from the second trial.
CLICK HERE for the ten finalists advancing to the Grade 1, $52,000 Lone Star Speedhorse Paint & Appaloosa Futurity.