RACING THIS WEEK
FEATURES
SERVICES
Call Me Cole, under jockey Jesus Ayala, posting the fastest time for the Grade 1 $1,745,450 Los Alamitos 2 Million Futurity Sunday night.

© Scott Martinez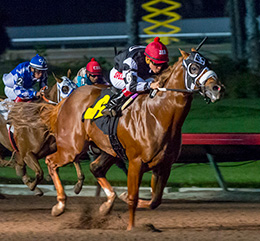 Call Me Cole, J Fire Up Top Trials To Los Alamitos Two Million Futurity On Sunday Night
LOS ALAMITOS, CA—NOVEMBER 26, 2017—
Reliance Ranches' Call Me Cole topped them all in the trials to the Grade 1, $1,745,450 Los Alamitos Two Million Futurity after the colt by
Corona Cartel
posted the fastest qualifying time to the richest race of the meet on Sunday night at Los Alamitos Race Course.
Ridden by Jesus Rios Ayala for trainer Mike Robbins, Call Me Cole was sensational in winning the eighth of 10 trials, as the Utah-bred covered the 400-yards in :19.726 - his third win in six career starts. Leaving the gates from post number six, the Utah-bred Call Me Cole broke sharply and took the lead a step or two after the start. He took off from there; leaving his closest rival 1 ¾ lengths behind before finishing strong to post a tremendous 2 ¼-length victory.
"We've been waiting for him to break like he did tonight," Robbins said. "The horse has always been fast. He didn't get away in the (Golden State) Million, got crowded a little bit and got pinched out. I've been waiting for him to break like this. He's always had a 'come home' time that was really fast. Tonight, he put it together all the way. We'll train him up (to the Los Alamitos Two Million) just like we have been."
Call Me Cole entered these trials after running seventh to J Fire Up in the Golden State Million. Prior to the final, Call Me Cole won his Golden State Million trial by a half-length and before that he recorded his first career victory also at Los Alamitos. He has won three of his four starts at the Orange County track.
Bred by McColee Land & Livestock LLC, Cole Me Cole is out of the stakes winner Little Surfer, making him a full brother to the stakes placed runner Rip Tide and part of the great family of Champion of Champions winners Ocean Runaway and Waver Carver, and stakes winners Trisk, The Ocean King, Aquafina, and more.
Led by fastest qualifier Call Me Cole, a total of 81 juveniles competed in the trials to the Los Alamitos Two Million. CLICK HERE for the list of 10 qualifiers, their times, sires, dams, owners, breeders, trainers and jockeys.
J Fire Up Sizzles Again
Owned by Darling Farms, Jaime Gomez, and Ernesto Solis's J Fire Up delivered another great performance, as she cruised to victory in the second heat of the night. Her winning time of :19.754 also gave her the second fastest qualifying time to the Los Alamitos Two Million final. Ridden Jose Nicasio, J Fire Up finished 1 ¼ lengths ahead of the 10th fastest qualifier Remember The Rose.
Ed Burke Million(G1) winner J Fire Up winning the second trial on Sunday night.
© Scott Martinez
Regarded as the top Quarter Horse filly in California, J Fire Up has qualified to all three of the million dollar futurities contested at Los Alamitos this year. The Jaime Gomez-bred runner won the Grade 1 Golden State Million Futurity on November 5 and was second in the Grade 1 Ed Burke Million Futurity on June 18. She was also the winner of the Governor's Cup Futurity on July 29.
"She's an exciting filly to watch," Gomez said. "She brings me a lot of thrills. She's like Docs Best Card, who made every dance during his 2-year-old year. Like her name says it, J Fire Up fires every race. She's got so much heart. She's been so special."
Gomez owned and trained Docs Best Card, who was the runner-up in all three big futurities here in 2015 - the Los Alamitos Two Million, Golden State Million, and Ed Burke Million. He now stands at Bob Moore Farms in Norman, Oklahoma. As for J Fire Up, she's won six of eight starts this season with all but her maiden race coming in either a futurity trial or final. Bred by Gomez, she's earned $714,962 in her career.
"This filly gives you everything she's got every time," Gomez said. "She doesn't make mistakes. She's nice and sound and I'm blessed to have raised a championship contender."
J Fire Up's mother is This Boogie Fires, the third-place finisher in the 2011 Kindergarten Futurity.
"We'll take This Boogie Fires back to Kiddy Up," Gomez said. "I also have breedings for her with One Famous Eagle and I'll take her to my stallion, Docs Best Card."
J Fire Up was a $25,000 repurchase at the 2016 Los Alamitos Equine Sale.
Longshot Ditto Head Makes Another Futurity Final
For the second time this year, Fortuna Properties, Inc's Ditto Head won a trial race at a big price while also qualifying to a major futurity final. The Foose gelding won his Governor's Cup Futurity trial at 48-1 odds back on July 8 to make the final. He also won his Los Alamitos Two Million Futurity after being sent off at double digit odds of 17-1.
Ditto Head, under jockey Cesar Gomez, pulls four finalists into the Los Alamitos 2 Million Futurity in the closing trial.
© Scott Martinez
More importantly, the Alessio/Brown/Davies LLC-bred runner posted the third fastest qualifying time of :19.827 to advance to the Los Alamitos Two Million final. Cesar Gomez piloted Ditto Head to a ¾ length win in a trial that also featured qualifiers On Our Way and Peighnt Your Fate.
"He's always been a good horse," trainer Mike Casselman said. "He had a little shin issue earlier this year and we took care of it. We ran him in the futurity and then he got a little issue in his other shin. We stopped his training and we just gave him some time off to get better. He's doing well now and he ran a great race against some very talented horses in this trial."
Out of the Streakin La Jolla-mare Lavish La Jolla, Ditto Head is a half-brother to the Lavish Susan, a finalist to the 2012 Los Alamitos Two Million Futurity and a winner of of $121,732 and. Lavish Susan had a fine 2013 campaign, running third in the La Primera Del Ano Derby and making the finals to the Los Alamitos Super Derby and Southern California Derby.
Scoopie Jess Wins Second Straight To Advance
Two Feathers Series LLC's Scoopie Jess is blossoming at the right time, as the son of One Sweet Jess has won his last two outings after going winless in his five initial starts. Ridden by Oscar Peinado for trainer Bret Vickery, Scoopie Jess led the seventh trial from start to finish in route to a half-length win in a time of :19.835, which resulted in the fourth fastest qualifying time.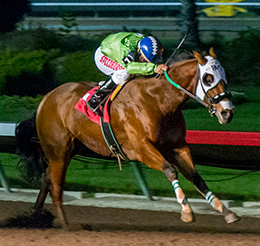 Scoopie Jess, under jockey Oscar Peinado, qualifying in
trial 7.
© Scott Martinez
"This horse was previously owned by Dennie and Kris Hill," Vickery said. "Steve Brantley (of Two Feathers Series) purchased the horse after Dennie passed away earlier this year. We have Dennie to thank for breeding Scoopie Jess, and his family to thank for giving us the opportunity to acquire this horse. We've run this horse lightly – this is only his (seventh) out. I hope he's peaking at the right time."
A native of Roswell, New Mexico, Brantley has loved Quarter Horses his entire life.
"I got involved when I was 8-years-old in Ruidoso, New Mexico," Brantley said. "Then I found this guy (Vickery) to be my trainer after 70 years in the sport. It's been fabulous because of what Bret has done, and being involved in the game that I love. It's a lot of real high highs and low lows, but it's great to be involved."
"We've done well with (stakes winner) Stevie B First Cash and ran second with Go Cash Stevie B in the third trial earlier tonight," Vickery added. "We also won the Los Alamitos Juvenile Invitational with Blueeyedeagle. Steve has been a great owner."
Grade 1 Runner-Up Matilda Czech Makes Another Final
EG High Desert Farms' homebred Matilda Czech will have a chance to avenge her close defeat to J Fire Up in the Golden State Million after qualifying to the Los Alamitos Two Million Futurity with the fifth fastest clocking of :19.861. Cruz Mendez rode the Fast Prize Cartel filly for trainer Valentin Zamudio.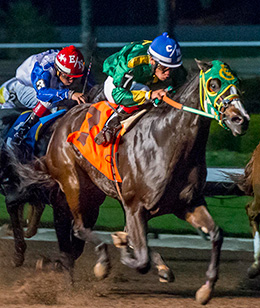 Golden State Million Futurity(G1) runner-up Matilda Czech qualifying in trial 6.
© Scott Martinez
"The filly is very honest and she tries so hard each time out," Zamudio said. "Her last race when she was second in the Golden State Million is one race that I'll never forget. She gave it her all. It was a great race. I would have loved to have seen her win the race. In my mind I'd like to think that we did win it. With one more jump maybe it would have been different."
Matilda Czech has won five of eight career starts. Her sire, the 6-year-old stallion Fast Prize Cartel, never raced, but he's by the great Corona Cartel and out of Fast Fire Prize, the winner of the Grade 1 Heritage Place Futurity in 2002. Bred by Weetona Stanley, Fast Prize Cartel is a full brother to 2010 Remington Park Futurity fastest qualifier Coronas Fast Prize. On the bottom side, Matilda Czech's mother, the Corona Czech mare Short Czech, won the Grade 1 Southern California Derby at Los Alamitos in 2008. She's from the family of Grade 1 winner Natovas Princess and stakes winners Our Liquidator and Feature My Liquidity.
Fresh Faces Ready For Los Alamitos Two Million
Owned and bred by Mark and Peggy Brown, Jess My Kiss posted the sixth fastest qualifying time of :19.924 after running second to Scoopie Jess in trial seven. One of three horses by One Sweet Jess to make this year's Two Million final, Jess My Kiss also qualified to the Ed Burke Million earlier this year. The Idaho-bred gelding was repurchased for $14,000 at the 2016 Los Alamitos Equine Sale and his dam, Dreaming Of Kisses, won the 2010 Bitterroot Futurity. His family includes the Grade 1 stakes winning millionaire Houdini and Grade 1 stakes winner Heza Ramblin Man.
On Our Way, under jocky Cruz Mendez, finished second Ditto Head in the final trial.
© Scott Martinez
Cesar De Alba piloted Jess My Kiss for trainer Roman Figueroa, a former Grade 1 winning jockey at Los Alamitos. "Fig" piloted My Debut to victory in the 1995 Champion of Champions - one of his 912 Quarter Horse wins in his Los Alamitos riding career.
Ditto Head's trial produced two other qualifiers in Lazy Creek Ranch and Jerry McAlevey's On Our Way and Reliance Ranches LLC's homebred Peighnt Your Fate, the seventh and eighth fastest qualifiers. Also sired by One Sweet Jess, On Our Way finished second to Ditto Head at 50-1 odds and in a time of :19.933. The lightly-raced filly was making only her fourth career start and just her second since June 4. Cruz Mendez piloted the Steve Burns-bred runner for trainer Jose Flores. On Our Way's dam is Attack The Cartel, a stakes winner at Los Alamitos in 2013. On Our Way was purchased for $16,000 at the Los Alamitos Equine Sale last year.
Ridden by Ramon Sanchez for trainer Mike Robbins, Peighnt Your Fate was making only his third career start. He won his career debut at Los Alamitos on September 29 and then finished second in a trial to the Golden State Million Futurity. He was fourth at the start of this trial, but finished with good energy to grab third place while posting the eighth fastest time of :19.935.
Moonie Blues, under jockey Eduardo Nicasio, winning
trial 9.
© Scott Martinez
Another homebred to qualify is the filly Moonie Blues, the winner of trial nine in the ninth fastest time of :19.948. Owned and bred by Lisa Anderson, the Washington-bred filly by
Freighttrain B
posted a 1-½ length victory her while improving her career record to five wins in seven starts. Moonie Blues has won her last three outings – all coming at Los Alamitos – a streak that includes a daylight victory in the Wild West Futurity on October 29.
"We skipped the trials to the Golden State Million Futurity to go for the Wild West," said trainer Jaime Gomez. "I asked the owner to skip the Golden State so we could point her to the Wild West and the Los Alamitos Two Million trials. The strategy paid off. It was the right move. She won the Wild West easy and that pumped up her heart. Moonie Blues is a really nice filly. She's a half-sister to Go Black Benny, who ran in a couple of big derbies for me last year."
Steve Burns and James Markum's homebred Remember The Rose became the third different 2-year-old out of Remember Me Rose to qualify to a million dollar futurity at Los Alamitos this season after posting the final qualifying time of :19.950 with jockey Cesar De Alba aboard.
Trained by Mike Casselman, Remember The Rose joins Remember To Dash, who made the Ed Burke Million and Golden State Million finals, and The Revenant, who ran in the Golden State Million final, as the two other runners out of the brilliant Remember Me Rose to shine in trials. None of the three are full-siblings, as Remember The Rose is by Walk Thru Fire, while Remember To Dash is by First Down Dash and The Revenant is by Favorite Cartel. That's a credit to the outstanding broodmare Remember Me Rose, who was also a fine racehorse with four stakes victories and nine wins in 18 career starts.
* * * * * * * * * * * * * * * *
Leading third-crop sire One Sweet Jess was the only stallion with multiple qualifiers to the Los Alamitos 2 Million with three.
The following stallions will be represented in the Los Alamitos Two Million Futurity: Corona Cartel (Call Me Cole), Kiddy Up (J Fire Up), Foose (Ditto Head), One Sweet Jess (Scoopie Jess, Jess My Kiss, and On Our Way), Fast Prize Cartel (Matilda Czech), Pyc Paint Your Wagon (Peighnt Your Fate), Freighttrain B (Moonie Blues), and Walk Thru Fire (Remember The Rose).
* * * * * * * * * * * * * * * *
Keith Nellesen's KVN Corona ran his guts out to win the fourth trial, but missed qualifying to the Los Alamitos Two Million Futurity after posting a time of :19.984. The colt by Corona Cartel was bumped from both sides at the start, but finished powerfully to win by a nose over Just Walk By. KVN Corona did keep his perfect record intact after winning all six of his races so far.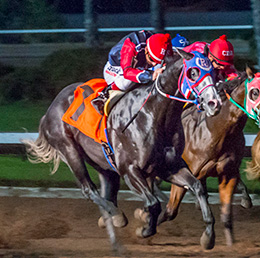 Two-time futurity winner Kvn Corona powered to victory in trial 4.
© Scott Martinez
"He got hit at the start," said Ramon Sanchez, who piloted the McColee Land & Livestock LLC-bred runner. "He still had room to run. I was just hoping that he would be fast enough to qualify."
"He had rough trip out of the gates and got bumped from both sides," trainer Paul Jones added. "He overcame and got the win. He's a good horse and good horses overcome trouble. I (was) just hoping that the time would hold up."
It's been a fine year for KVN Corona, as he outdueled J Fire Up by a head in the Ed Burke Million and then crossed the wire a head in front of Just Walk By to win the Grade 2 PCQHRA Breeders Futurity on October 7.
KVN Corona did qualify him to the $30,000 Los Alamitos Juvenile Invitational, which will also be held on December 17.
CLICK HERE for the list of qualifiers to the Juvenile.
Courtesy of www.losalamitos.com.