RACING THIS WEEK
FEATURES
SERVICES
Kiddy Up Cowgirl, under jockey Eulices Gomez drives to victory in the Grade 1, $100,000 Charger Bar Handicap Sunday night at Los Alamitos Race Course.

© Scott Martinez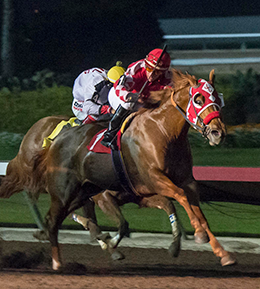 Kiddy Up Cowgirl Is Fast At The Start, Strong At The End To Win Charger Bar Handicap
LOS ALAMITOS, CA—JANUARY 7, 2018—
David Nelson has been raising and racing Quarter Horses since 1967. Over 50 years later and the horseman from Turner, Oregon has found his dream mare in the form of the David Martin-bred Kiddy Up Cowgirl, the longshot winner of the Grade 1, $100,000 Charger Bar Handicap on Sunday night at Los Alamitos.
Nelson and his wife, Leah, purchased the mare at the advice of trainer James Glenn, Jr., who had conditioned the filly her entire career for the late Rod MacPherson, Jr., until his passing in November of 2016. MacPherson, Jr.'s daughter, Robin, wanted to find the perfect owner for Kiddy Up Cowgirl while also remaining under the care of Glenn, Jr.
"This wouldn't be possible without Robin MacPherson," Glenn, Jr. said. "She allowed this to happen and literally took just pennies on the dollar just so I could keep the mare. We had all these offers for her, but we did not sell her. Robin let me have her for that reason. David Nelson started me. This wasn't about the money. It was about having a good horse."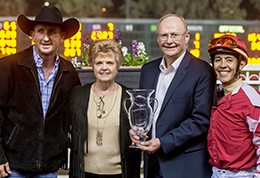 The winning connections of Kiddy Up Cowgirl, trainer James Glenn Jr. , owners Leah and David Nelson and jockey Eulices Gomez accept the Charger Bar Handicap(G1) stakes trophy Sunday night.
© Scott Martinez
"I'm just blessed that we were able to buy the mare when we did," Nelson added. "It's been beyond our dreams and expectations. Jimmy has been the intermediary between us and Robin MacPherson. She told Jimmy that she wanted him to find a good home for the mare and keep her in his barn. I had called Jimmy to tell him about a filly I had bought a few years ago that wasn't proving out. I was whining about her running fifth or sixth when he said, 'Forget that. I've got a deal for you.' That was the deal. She's the best horse by far that we've ever own."
Kiddy Up Cowgirl had won a pair of stakes races at Los Alamitos since being purchased by the Nelsons. The 4-year-old Kiddy Up mare won the Grade 3 PCQHRA Breeders Derby from post number one last October and was fourth in her trial to the Grade 1 Los Alamitos Super Derby in her previous start (on October 21).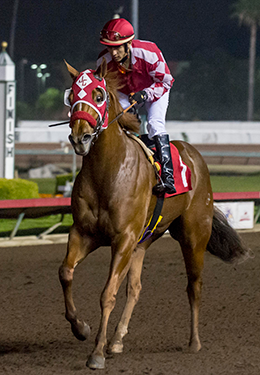 Jockey Eulices Gomez returns with Kidd Up Cowgirl after winning the Grade 1 Charger Bar Handicap at Los Alamitos Race Course.
© Scott Martinez
Starting once again from post one, Kiddy Up Cowgirl broke sharply and took the lead about 50 yards into the race with jockey Eulices Gomez aboard. She never looked back from there, winning by a neck over Las Damas Handicap winner Thermonuclear Energy while covering the 400 yards in :19.813. Thermonuclear Energy is known for packing a powerful late kick, but Kiddy Up Cowgirl is a mare that can finish strongly as well.
"She could make a jump right out of the gate, but it would take her about three jumps to collect herself again," Nelson said Kiddy Up Cowgirl's racing style earlier in her career. "She's matured. When we came down to (California) this time, we noticed that she's probably gained about 100 pounds. She looks more muscular and more mature. I think that maturity has allowed her to collect herself and to keep going right out of the gate instead of just having to stall for a while and letting the other horses get away from her. It's been a fantastic experience."
Nelson, a retired lobbyist in Oregon, has loved Quarter Horses for as long as he can remember.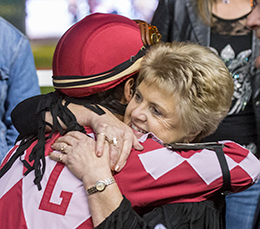 Owner Leah Nelson gives jockey Eulices Gomez a winning hug following their victory in the Charger Bar Handicap(G1).
© Scott Martinez
"I started trying to breed a racehorse in 1967, but didn't have much luck with the babies," Nelson added. "I trained my own from 1972 to 1990. Jimmy rode some horses for me in the late 1980s. Then he came along and said, 'I'm going to California. Would you send a couple of horses with me?' I said 'sure.' He's been training them ever since. He went to Bay Meadows first and then here to Los Alamitos. We've had some good luck along the way. He's been a good friend. We've gone to all of his kid's graduations and their weddings. He's been good to us and we've tried to be good to him and loyal. We're now seeing a little success."
The plan now calls for Kiddy Up Cowgirl to go to the breeding shed, just like 2015 champion aged mare Quirky did after her wins in the Charger Bar Handicap when she was also trained by Glenn, Jr.
"We'll breed (Kiddy Up Cowgirl) to One Famous Eagle and Seperate Interest and then she'll be back. We'll try to take the same road we did with Quirky. We'll run her in the Matron Stakes on California Breeders Champions Night (July 28) and then the Mildred Vessels Memorial Handicap (September 23). We'll try to see if we can take a shot at the aged mare championship with her. I'm going to take her out (to Burns Ranch) on Tuesday. I have two horses out in that area that I'll be bringing back including her full brother (No Kiddin) after a layoff. We'll take her to Dr. Burns and pull the embryos. When she's done, she'll be back."
And when she's back, Glenn Jr., will look forward to seeing more strong finishes from the big mare.
"You are not going to outfinish Kiddy Up Cowgirl," he said. "She's such a long jumping mare. She's always making up two or three lengths. Thermonuclear Energy is a great mare, but if Cowgirl is up there towards the lead halfway down, she's really something to reckon with in the final 50 to 75 yards. She's just figuring it out. She's so big. The more she matures and the bigger she gets and stouter she gets, you'll be surprised what she can do. I don't think we've seen all that she can do."
Kiddy Up Cowgirl earned $50,000 for her victory in the Charger Bar to raise her career bankroll to $217,041. Out of the A Regal Choice mare Girls Choice, Kiddy Up Cowgirl has won five of 18 career starts, while finishing in the top three a total of 12 times.
Parsons Family Limited Partnership's homebred Thermonuclear Energy earned $17,000 for her runner-up effort.
Ridden by Eduardo Nicasio for trainer Chris O'Dell, the Walk Thru Fire mare has finished in the top three in 16 of her 21 career starts. She's earned $276,007 in her racing career.
C.K. & Laurel Allen's Strawfinders Jessee earned $10,000 for finishing third in the Charger Bar. The One Sweet Jess mare has done well in her stakes appearances. She was to second to Thermonuclear Energy in the Las Damas and third to Maggie Durant in the Matron Stakes last year for trainer John Cooper.
One Sweet Runner, Jess Paint Your Lips, Jess Mas, Honeymoon Candy, Time For Jess, Duck Dash N Go, and Jess Good Reason completed the field.
Courtesy of www.losalamitos.com.