RACING THIS WEEK
FEATURES
SERVICES
Trainer Monty Arrossa saddled his third 2-year-old winner, Fames Prize Stone, to a an upset win on Sunday at odds of 25-1.

© Scott Martinez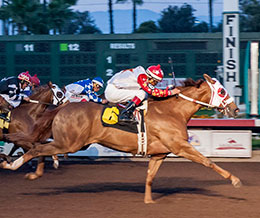 Arrossa Has Good Week, Tac Me Up Impresses, Royaltys Authority Has Meet's Fastest Time
LOS ALAMITOS, CA—APRIL 15, 2018—
Monty Arrossa enjoyed a good weekend with his 2-year-olds at Los Alamitos, as the trainer won three races with his talented young runners at the Orange County oval.
The most impressive of the three wins came with Budbreak on Friday night, as the son of FDD Dynasty came out on top over a solid field that included the highly regarded freshman Cole Man 47. Ridden by Eduardo Nicasio, Budbreak won his debut in a 300-yard time of :15.561.
"Dennis Jensen and Randy Young bought Budbreak here at the Los Alamitos Equine Sale and we took him back to Idaho," Arrossa began. "Romero Fregoso, who runs my operation in Idaho broke him. (Budbreak) was a bit of a tough customer. He wanted to buck. He gave us a little bit of trouble early. Once he got going, the guys told me that they really liked him. They shipped him down here and he put in two great works. You never know what to expect first out. I thought he ran pretty professional on the outside. It was a tough race, but it was a nice race."
Arrossa saddled another winner on Saturday night, this time with the 2-year-old Stevieb Flashofcash for Five Livestock LLC. It was a special victory as well for winning rider Cesar De Alba, as it marked his 1,000th trip to the winner's circle aboard a Quarter Horse.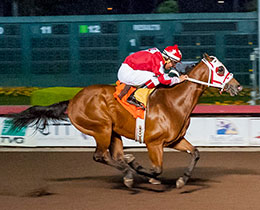 Colten O'Dell and Wendy O'Dell's Tac Me Up, who posted a dominant 2-¼ length win Sunday night at Los Alamitos.
© Scott Martinez
"I was thrilled for Cesar De Alba. Congratulations to him, as it couldn't happen to a better guy and a great friend," Arrossa said. "Five Livestock – that's Matt Telford and Melinda Roche – purchased Stevieb Flashofcash at the Los Alamitos Equine Sale. We shipped him back to Idaho. The guys broke him there and got him going. They liked that colt. He's a big horse. We weren't sure if he would be an early runner or not, but he was showing a lot of quickness so we decided that we would try the Kindergarten. He's been a little green in his works, but he's been very competitive with Budbreak. He ran a nice race last night, still a little green. He wanted to lug out a little bit, but was able to get the win."
The trainer completed his weekend trifecta when he saddled Gary and Jeralyn Messenger's Fames Prize Stone to a surprising victory on Sunday at odds of 25-1. Eduardo Nicasio piloted the First Prize Stone filly.
"(Gary and Jeralyn) raised her," Arrossa said. 'They are wonderful clients. The mother (of Fames Prize Stone) is Go For Fame. She was a big time runner and she's been a big producer. She's produced several stakes horses. I was fortunate to get (her) early and my guys in Idaho did a nice job. We shipped her down here and my guys at Los Alamitos have done an exceptional job with her handling her a lot. She worked two pretty decent works, not overly fast, but we could see she was improving. I just hoped she would break and run straight. I'm pretty excited about her tonight."
Fames Prize Stone covered the distance in :15.803. As Arrossa mentioned, her dam, Go For Fame, was a notable sprinter. She was a five-time stakes winner with her biggest win being the Grade 2 Northwest Challenge Championship. She won 11 of 24 races and earned $122,934 in her career.
Go For Fame has produced 2014 Idaho Cup Derby winner Fames Version and three-time stakes winner Lajolla Famosa.
There was one other juvenile race held on Sunday evening and it went to Ruth Barbour, Colten O'Dell and Wendy O'Dell's Tac Me Up, who posted a dominant 2-¼ length win in the 300-yard dash.
Trained by Chris O'Dell, the meet's leading Quarter Horse trainer, the Kiddy Up gelding covered the distance in ;15.608. Tac Me Up's dam is Tacatrina, whose female family has ties to AQHA World Champion Wave Carver, champion Ocean Runaway, and local graded stakes winners Ocean Cartel and Stel My Corona.
"With this guy is one of those dreams come true kind of deals," O'Dell said. "We bought him after the (Los Alamitos Equine Sale) from Firth Ranch. We've given him a lot of attention and he's shown us a lot from day one. John Firth did a good job breaking him. I have friend, Ruth Barbour, in Canada and she wanted to go in partners with me on this horse. I let her have half of the horse and (wife) Wendy and (his son) Colton own the rest of him. He's a family project and we're happy with the results tonight. That's what it's all about."
Tac Me Up covered the 300 yards in :15.608.
In the ninth and final race on Sunday night, S and S Horses' Royaltys Authority ran like a lightning bolt from post number six on the way to posting the meet's fastest 330-yard clocking of :16.451.
The gray gelding by Royaltys Choice covered the final 220-yards in a blazing :09.30 with some help of a tail-wind. In the 330-yard race held earlier on Sunday, the final 220-yard time was :09.62. Roman Figueroa saddled Royaltys Authority, who was ridden by Ruben Lozano.
* * * * * * * * * * * * * * *
Courtesy of www.losalamitos.com.