RACING THIS WEEK
FEATURES
SERVICES
Jerome Fair hosted trials for the Roche Equine Futurity and the EIHA Derby on Sunday's race card.

© Jerome Fair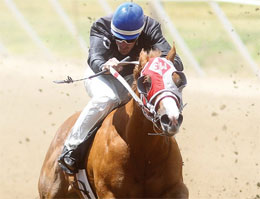 Guys Storm Cloud, Thought It Through Top Qualifiers at Jerome Sunday
JEROME, ID—JUNE 10, 2018—
The Jerome Fair hosted two sets of trials on Sunday— the Roche Equine Futurity for 2-year-olds and the EIHA Derby for 3-year-olds.
The top eight qualifiers from each set of trials will return to Jerome on Sunday, June 24 to contest a $7,000-added final in each race over a distance of 350 yards.
Coming off a fourth-place finish in the Pot O'Gold Derby at Sun Downs last month, Guys Storm Club picked up his second win in three starts to get the fastest qualifying time for the $7,000-added Roche Equine Futurity.
Ridden by jockey Jose Figueroa, the son of Guys Casanova Cowboy defeated Vf Elvira by one-length to get the top mark of :17.879 seconds, a 97 speed index with a 10 mph tailwind.
Trainer Uriel Arreola saddled the palomino gelding for owner Heidi Robinson. Bred in British Columbia by Wildwood Ranches, Guys Storm Cloud is from the Okey Dokey Dale mare Lightnin Storm Cloud.
For the complete list of qualifiers, times, sires, dams, owners, breeders, trainers and jockeys to the 2018 Roche Equine Futurity CLICK HERE.
* * * * * * * * * * * * * * *
In the 7,000-added EIHA Derby trials it was California-bred Thought It Through who posted the fastest clocking of :17.488 seconds, a 106 speed index for the 350 yards with a 10 mph tailwind.
Jockey Raymundo Torres rode the daughter of multiple stakes sire Foose to victory in the last trial for owner Jorge Murillo and trainer Farrol Cunningham. Edward Allred bred Thought It Through from the Pritzi Dash mare Just Think.
The bay filly has won two of eight starts and earned nearly $10,000. She was third in the Gary Blatner/Harold Pence Memorial Derby in her last start May 20th.
CLICK HERE the complete list of EIHA Derby qualifiers, including their times, sires, dams, owners, breeders, trainers and jockeys.