RACING THIS WEEK
FEATURES
SERVICES
Zoomin For Spud (#7) holds off Bh Lisa Boy(#6) in the $170,500 Vessels Maturity(G1) Sunday night at Los Alamitos Race Course.

© Scott Martinez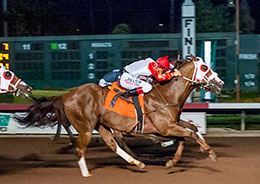 Zoomin For Spuds Wins Vessels Maturity To Earn Third Straight Trip To Champion Of Champion
LOS ALAMITOS, CA—JULY 8, 2018—
It was a weekend to remember for Monty Arrossa. The trainer was represented by 19 starters over the three day period with 10 of them returning victorious in races held in California and Idaho.
By far, the most important win for Arrossa's barn came in the weekend's final race, as Jim Walker's outstanding champion Zoomin For Spuds edged his longtime rival BH Lisas Boy by a paper-thin margin to win the Grade 1, $170,500 Vessels Maturity on Sunday night at Los Alamitos.
Ridden by Jesus Rios Ayala, Zoomin For Spuds' victory in the Vessels Maturity also earned him a berth to the prestigious Grade 1 Champion of Champions at 440 yards for the third consecutive year. The gelding by Zoomin For Bux won the Champion of Champions in 2016 on the way to being named AQHA champion 3-year-old gelding and finished third to longshot Mr Pyc To You last year.
"Qualifying to the Champion of Champions can take its toll on you," Arrossa said. "We didn't qualify Zoomin For Spuds to last year's race until the very end. You're always thinking about the next one. It can be tough. It's good to now know that he's in the race."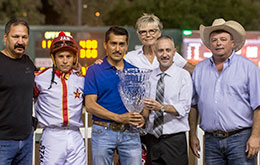 The winning connections of Zoomin For Spuds accept the Vessels Maturity stakes trophy Sunday night at Los Alamitos.
© Scott Martinez
"Three years in a row, that's pretty incredible," Arrossa added. "He's an incredible animal. He lays it on the line every time. He has a big heart. He had a lot of trouble in the (Vessels Maturity) trials, but he bounced back. I have to give a lot of credit to his groom, Filaberto Alvarado. He's done a great job. They cut him up a little big in the trials in the hind legs and (Alvarado) was on top of it, taking extra good care of him. The horse responded very well."
Leaving the gate from post number seven, Zoomin For Spuds opened a half-length lead on stablemate Katies Easy Moves, while defending Vessels Maturity winner BH Lisas Boy and fastest qualifier Tarzanito followed right behind them. At the halfway point, the 400-yard dash became a three-horse race between the 5-year-0ld Zoomin For Spuds, the 6-year-old BH Lisas Boy, and the the 4-year-old Tarzanito. Then, in the final 50 yards, it became a duel between longtime foes, Zoomin For Spuds and BH Lisas Boy. By an inch, Zoomin For Spuds edged his old rival while covering the distance in :19.628. Meanwhile, BH Lisas Boy's final time was :19.630, a difference of just 2/1000ths of a second.
Zoomin For Spuds, under jockey Jesus Ayala, returns after winning the Grade 1 Vessels Maturity.
© Scott Martinez
"(BH Lisas Boy) didn't break as well tonight and I was able to take the lead," Rios Ayala said. "He was coming strong after me, but he couldn't get me. Two more jumps and he catches me. It was a close race. I was expecting a lot of those horses to come after. I was waiting for Tarzanito and Bill Hoburg's horse (BH Lisas Boy) to come at me. Fortunately, my horse finished well tonight."
"Jesus Rios Ayala, it doesn't get better than him," Arrossa said. "That kid is a worker. He is here every day and he loves the horse. They do well together. I didn't know when they came across the finish line. I thought we were close. The people that were sitting behind me were congratulating me. I wasn't sure. I walked down the tunnel and I heard a cheer and I looked at the board and it still wasn't known. I just didn't know. When I saw his number go up, I was sure glad. He's proven that he can go 440 so I'm looking forward to running him in the Champion of Champions."
"We'll rest him," Arrossa continued. "We'll give him a little bit of a break. We'll work towards the Champion of Champions, but backwards. We'll give him a little bit of a rest now. (Owner) Jim Walker, you know, we have a 2-year-old of his in Idaho today. She won and broke her maiden first out at Rupert Downs. He was pretty excited. He told me he was going to hustle home and watch this race. Once I talked to him, I'm talking about Zoomin For Spuds for a little bit and then he just says, 'Hey how about my filly that won today!' That's Jim. He just lets me manage the horse and is very patient. He's always looking forward."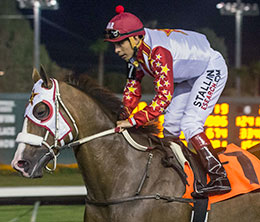 Jockey Jesus Rios Ayala and Zoomin For Bux return after winning the Vessels Maturity(G1) Sunday night.
© Scott Martinez
Zoomin For Spuds is now a winner of 11 of 31 starts, while finishing in the money in 29 of those starts. This year, he's won the Moonist Handicap over BH Lisas Boy, but also ran second to his rival in the Grade 1 Brad McKinzie Los Alamitos Winter Championship. He was third in the Kaweah Bar Handicap. Zoomin For Spuds earned $71,610 for this win to take his career earnings to $650,441.
BH Lisas Boy earned $28,985 for his runner-up effort to take his career earnings to $558,816. Similarly to Zoomin For Spuds, BH Lisas Boy has hit the board in 28 of 32 career starts. The son of Mighty Invictus earned his second straight trip to the Champion of Champions by winning the Brad McKinzie earlier this year.
"He ran a good race," said Cesar De Alba of BH Lisas Boy. "We broke together, but he out quickened me early on. He had me by about a half-length or so. My horse was running on his left lead. He wasn't all comfortable. When I reached up and hit him left-handed, he switched to his right lead and took off. He came home strong. It was just a bit too late. One more jump and we would have gotten him. I knew he had beat me. I congratulated Ayala after the race."
A1A Racing LLC's Tarzanito ran gamely from post four on the way to earning $20,460. Eddie Garcia piloted him for trainer Yanet Rodriguez. The top three finishers were followed by Katies Easy Moves, Jess Hawk, Branquino, Rite Regal, Billionaire Boy, and Flash N Bling. Seared was pulled up at the halfway point and did not finish the race.
* * * * * * * * * * * * * * *
Courtesy of www.losalamitos.com.