RACING THIS WEEK
FEATURES
SERVICES
Stakes winner Jess Send It, under jockey Ramon Sanchez, posting the fastest time for the $136,850 Los Alamitos Wild West Futurity on Sunday night.

© Scott Martinez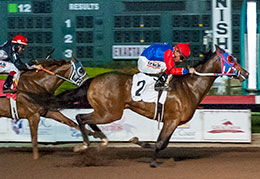 Jess Send It Tops The Trials To The Wild West Futurity On Sunday Night
LOS ALAMITOS, CA—OCTOBER 6, 2018—
What a weekend for jockey Ramon Sanchez. The 2002 and 2009 AQHA champion jockey swept the PCQHRA Breeders Series, winning the Grade 3 derby with Moonie Blues on Friday and the Grade 2 futurity with Cole Man 47 on Saturday.
Sanchez completed his great weekend by piloting Keith Nellesen's Jess Send It to the fastest qualifying time to the $136,850 Los Alamitos Wild West Futurity on Sunday night.
With Sanchez in the irons for trainer Paul Jones, Jess Send It took the lead right away from post number two. The Corona Cartel filly sailed to the finish line from there, crossing the wire ¾ lengths ahead of Jorge Carmona's Pot O' Gold Futurity winner Ladys A Cartel, while covering the 350 yards in :17.645.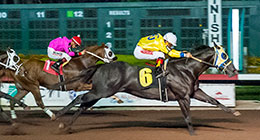 Kr Hi Five, under jockey Jose Nicasio, won the opening trial.
© Scott Martinez
Jess Sent It, the winner of the Hadley/Giles Futurity at Weber Downs near Ogden, Utah, was picking up her third win in six carer starts. The Turner Farms-bred filly has yet to finish out of the money in her racing career.
Headed by the talented Jess Send It, the horses with the 10 fastest times will return for the Wild West final on Saturday, October 28.
She'll be joined by the Danny Montes-trained Ladys A Cartel, who finished with the second fastest qualifying time of :17.773 following her runner-up effort. Sired by the Grade 1 winning champion and leading first-crop sire Five Bar Cartel, Ladys A Cartel came into the trials after a fourth place finish in the Tolltac Handicap at Los Alamitos on September 7.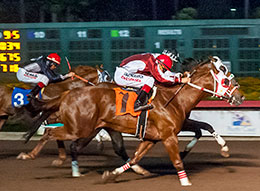 Jodee B Valiant (outside) and Staubach ended in a dead-heat in the fourth trial to tie for the fourth fastest time.
© Scott Martinez
The filly had won her two previous career starts, including the Pot O' Gold by 1-¼ lengths on May 6. Saul Ramirez Jr. rode the
A Regal Choice
, Inc.-bred runner.
Sally and Dave Kidd's KR Hi Five won the third trial of the night in convincing fashion, breaking sharply from post six before clearing her rivals at the midway point of the race.
Jose Nicasio rode the Five Bar Cartel gelding confidently from there, crossing the wire ¾ lengths ahead of Cm Whatta About Me in the third fastest qualifying time of :17.794. He's won three of six career starts.
For the complete list of qualifiers to the Wild West Futurity with times, sires, dams, owners, breeders, trainers and jockeys CLICK HERE.
Courtesy of www.losalamitos.com.