RACING THIS WEEK
FEATURES
SERVICES
Thermonuclear Energy, under jockey Eduardo Nicasio, defeating stablesmates One Sweet Racy (#3) and A Political Lady (#9) in the Grade 1 $100,000 Charger Bar Handicap Sunday night at Los Alamitos.

© Scott Martinez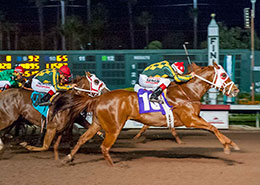 A Year After Running Second, Thermonuclear Energy Wins Grade 1 Charger Bar Handicap At Los Alamitos
LOS ALAMITOS, CA—JANUARY 6, 2019—
Parsons Family Limited Partnership's Thermonuclear Energy finished second in the 2018 running of the Charger Bar Handicap, but the 6-year-old Walk Thru Fire mare would not be denied in 2019, as she outdueled Johnny Trotter's One Sweet Racy by a half-length to win the Grade 1, $100,000 Charger Bar on Sunday at Los Alamitos.
Ridden by Eduardo Nicasio for trainer Chris O'Dell, Thermonuclear Energy scored her first ever Grade 1 victory thanks to her Charger Bar effort, while also matching the accomplishment of her mother, Terrific Energy by Mr Jess Perry, who won this race for the Parsons and O'Dell 10 years ago in 2009.
O'Dell dominated this year's running of the Charger Bar by saddling its top three finishers. In addition to winner Thermonuclear Energy and runner-up One Sweet Racy, O'Dell also trains third place finisher A Political Lady.
Howard Nichols presents the winning connections of Thermonuclear Energy, owner Parsons Ranch, trainer Christopher O'Dell and jockey Eduardo Nicasio, the Charger Bar Handicap stakes trophy Sunday night at Los Alamitos Race Course.
© Scott Martinez
Racing from the outside post number 10 as the 6-5 favorite, Thermonuclear Energy covered the 400 yards in a time of :19.776 to record her 10th victory in 26 starts and fifth stakes win of her career.
She had previously won the Restricted Grade 3 Matron Stakes and Ivan Ashment Handicap last year and the Grade 3 Las Damas Handicap in 2017. She also won the Los Alamitos Juvenile Invitational Stakes during her 2-year-old campaign in 2015. By the looks of it, the Parsons Family-bred mare appears to be getting better with age.
"Last year she ran second in this race, but I think what's helped her a lot is that we've bred her a couple of times," O'Dell said. "She's gained weight (as a result) and has done well. We're going to run her in the Denim N Diamonds Handicap and then breed her again. If she wins the Denim N Diamonds you almost can't quit with her. We'll have to come back and keep running her this year. I was thinking that after the Denim N Diamonds that we might retire her, but as good as she ran tonight, and if she comes out of this race nicely, then we'll go and breed her and then come back and keep going with her."
A race for 4-year-olds and upward Cal-Bred mares, the $35,000 Denim N Diamonds will be contested at 350 yards on February 16.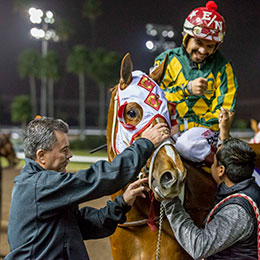 Trainer Christopher O'Dell and jockey Eduardo Nicasio aboard Thermonuclear Energy after her win in the Grade 1 Charger Bar Handicap on Sunday night.
© Scott Martinez
"You'll see a baby out of 'Thermo' out here pretty soon," O'Dell added. "She had two embryos pulled out of her two years ago and two more last year. Next year you'll see some of babies out of her. You know, it's been about a year and half since I saw (Thermonuclear Energy's dam) Terrific Energy. Every once in a while I go up to Parsons Ranch and naturally I always go and look for her. What a nice broodmare she's become. Every one of her babies has done well. Some of her babies are not quick-breakers because they're built like her, they're big horses. They're long-striding horses and built to run down the track."
Just like Thermonuclear Energy. Her victory in the Charger Bar is her seventh at 400 yards at Los Alamitos. Her victory in the Charger Bar also earned her the first place share of the purse of $50,000 to take her lifetime earnings to $382,882.
"I think this is her best race ever," jockey Eduardo Nicasio said. "She ran an excellent time and just likes to run from the outside post. It was a tough race because there were some outstanding mares, but I was confident that we could win. She broke a little behind, but she finished strongly. It was an impressive race. She's fit and she ran super."
"We had three mares in here and everybody wanted to win, but I think we made a good showing with all three," O'Dell added. "I've done well with fillies and mares, but I better do well because the Parsons have nine babies coming in this year and nine of them are fillies. With fillies you just have to be patient with them. They'll have their ups and downs, but once you get one doing well there's no stopping them. They'll give you their heart."
While the future of Thermonuclear Energy's career will likely be decided after the Denim N Diamonds, it sounds like Grade 1 winner One Sweet Racy will spend 2019 as part of the distaff division at Los Alamitos. Meanwhile, A Political Lady could also have a similar schedule as Thermonuclear Energy, with the Denim N Diamonds next and then a decision will be made.
"We'll be talking about it with the owners," O'Dell added. "But the plans was to breed them and then run them in the filly and mare races. All three will likely face each other again. Mr. Trotter had told me before that he wanted to take One Sweet Racy to Burns Ranch and breed her to a couple of stallions there. Then he'll bring her back here. Mr. Trotter likes her running out here. She hasn't run worse that second out here for me. She's won a couple of trophies and she ran a heck of a race tonight."
With Cody Jensen in the irons from post number three, One Sweet Racy earned $17,000 for her runner-up effort in the Charger Bar. The now 5-year-old mare by One Sweet Jess won the Grade 1 AQHA Distaff Challenge Championship on December 2 and the AQHA California Distaff Challenge on August 12. In between those wins, One Sweet Racy was second in the Grade 1 Mildred Vessels Memorial Handicap here on September 23. Bred by Sunflower Supply Company, One Sweet Racy has bankrolled $387,423 in her career.
Ridden by Jesus Rios Ayala, the 4-year-old A Political Lady earned $10,000 for her third place finish. The Apollitical Jess mare won five of her 11 starts in 2018, highlighted by winning the Grade 3 La Primera Del Ano Derby plus the Vandy's Flash Handicap and La Pacifica Handicap. For her career, the Parsons-bred mare has earned $396,685.
"A Political Lady is a heck of a racehorse," O'Dell added. "She's cooled off a little bit, but she's been hooking the best Quarter Horses out here. She's faced the best mares in the world."
The top three finishers were followed by Love to Reason Br, Tickle Ur Fancy, Jess Mas, Matilda Czech, Tough To Figure, Splendid Cause and 2018 Charger Bar winner Kiddy Up Cowgirl.
* * * * * * * * * * * * * * * * *
Courtesy of www.losalamitos.com.