RACING THIS WEEK
FEATURES
SERVICES
Apollitical J Twin 1 (#5), ridden by Juan Pulido, drives past Alchemist (#2) and Envogue (#4) in the fastest training race on Wednesday at Remington Park.

© Dustin Orona Photography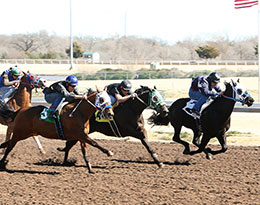 Trainer Sammy Valdivia Has Fastest Horse For March 13 Training Races At Remington Park
OKLAHOMA CITY, OK—MARCH 13, 2019—
Trainer Sammy Valdivia sent out the fastest horse in nine training races (eight for two-year-olds) at Remington Park on Wednesday. Trainer Manuel Rodriguez saddled a pair of winners that were just an eyelash or two behind the top horse.
Valdivia scored with Apollitical J Twin 1 in the first training race of the day into an extremely gusty 30 mph headwind which reached as high as 32 mph as the day wore on.
Jockey Juan Pulido prevailed with the winning 2-year-old American Quarter Horse, owned by Julio Gonzalez, scoring by a head over runner-up Alchemyst.
The winner, by Apollitical Jess out of the Chicks Beduino Jr mare Chalala, stopped the timer for 250 yards in :13.628 seconds for a speed index of 74, tops on the day.
The horses that ran second, Alchemyst (:13.661 by Freighttrain B) and Envogue (:13.676 by Ivory James) would have won virtually every other training race on the day, running only a head and another head back, respectively.
Rodriguez's two winners – Soul Kisser in the fifth training race and Combined in the seventh – were just thousandths of a fraction of a second slower than the time posted by Apollitical J Twin 1.
Both 2-year-olds are by champion and first-crop sire Kiss My Hocks and race for owner MRB Racing. Combined, a $21,000 Heritage Place Yearling graduate out of the Corona Cartel mare Bet Your Corona, clocked :13.63 seconds. Soul Kisser, a $225,000 Ruidoso Select Yearling Sale grauate, stopped the timer in :13.64 seconds. He is out of the Corona Cartel mare Cartel Rosie.
The headwind Wednesday was the highest of the season, topping the Feb. 13 training races when gusts were from 23-25 mph.
The winners of the training races Wednesday other than the fastest were Hundred Year Flood (second race, by a neck, in 13.851 seconds, for a 65 speed index, for trainer Shawna Manriquez and owner Craig Lauger), Chevaux (third race, three-quarters of a length, 14.204, 51, John Buchanan, Bobby Cox), Wager on Your Wagon (fourth race, head, 14.111, 55, Amanda Tongay, Jose Guzman), Jesta Wave (sixth race, head, 13.955, 61, John Hammes, Lonnie Terwilliger), Wired Special (eighth race, three-quarters of a length,13.882, 64, Loyd Moreland, Ken or Reba George), BV Tempting Fate (ninth race, head, 14.112, 55, owner-trainer Leonardo Alcala).
The fastest winner's sire Apollitical Jess is the all-time leading single-season sire of money earners. He also was a bullet on the racetrack. He was World Champion Racing American Quarter Horse, AQHA Racing Champion 3-year-old and AQHA Racing Champion 3-year-old Colt. He won 8-of-14 starts lifetime for earnings of $1,399,831, most of that compiled in his 3-year-old year. Among his top stakes wins were the Grade 1 Champion of Champions at Los Alamitos and the Grade 1 Los Alamitos Super Derby in southern California. He also finished second in the Grade 1 All-American Derby at Ruidoso Downs, N.M.
CLICK HERE for a complete list with individual times of the 2-year-olds who competed today.
The 2019 Remington Park Quarter Horse season continues Thursday night at 6 p.m. with 11 races.
Remington Park is always open for casino gaming. Simulcast horse racing is offered daily. Admission, parking and valet parking are always free at Remington Park. Guests must be 18 or older in order to wager on horse racing or to enter the casino.
Tracked by more than 150,000 fans on Facebook and more than 9,800 Twitter followers, Remington Park has provided more than $215 Million to the State of Oklahoma general education fund since the opening of the casino in 2005. Home to the historic Grade 2 Oklahoma Futurity, to be run for the 78th time on March 23, 2019, Remington Park is located at the junction of Interstates 35 & 44, in the heart of the Oklahoma City Adventure District. For more information, reservations and group bookings please call 405-424-1000, 866-456-9880 or visit remingtonpark.com.