RACING THIS WEEK
FEATURES
SERVICES
Had To Be Ivory (#3) holds off Country Boy 123 (#4) in the Mother's Day Feature at Ajax Downs on Sunday .

© John Watkins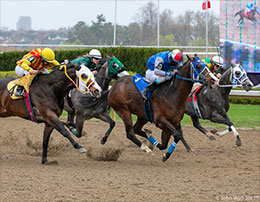 Had To Ivory Upsets Country Boy 123 In Mother's Day Feature
AJAX, ONTóMAY 12, 2019ó
It was a stretch run the Mother's Day crowd won't soon forget.
Had To Be Ivory, an Ontario-bred Ivory James 4-year-old, held off a charging Country Boy 123, the reigning Horse of the Year, to win the featured sixth race at Ajax Downs.
Owned by Carol and Jaime Robertson, trained by Bryn Robertson and ridden by Tony Phillips, Had to Be Ivory was quick away from the gate in the 300-yard dash and could not be caught. The winning margin over Country Boy 123 was a neck. The time of :15.20 was a hefty 105 Speed Index.
"I could hear from the reaction of the crowd that Country Boy was coming," said Phillips. "But my horse broke so fast I had a feeling we'd be tough to catch."
Had to Be Ivory, whose only career loss came to Country Boy 123 last year in an allowance race, now has nine wins in 10 starts.
Trainer Robertson reported after the race that Had to Be Ivory even lost a shoe during the exciting dash.
The Mother's Day race was the season debut for both horses who have set the table for a spectacular renewal of the Picov Maturity on May 26.
The 50th anniversary of Quarter Horse Racing at Ajax Downs continues Sunday May 19 with a first race post time of 12:55 p.m.
Find out more visit ajaxdowns.com and follow us on Instagram, Facebook and Twitter!