RACING THIS WEEK
FEATURES
SERVICES
Dreams Divine, under jockey Ruben Castro, led five qualifiers into the Ed Burke Million Futurity(G1) final in the opening trial Sunday night.

© Scott Martinez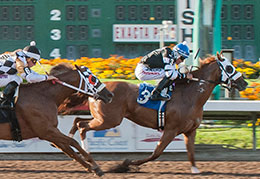 Dreams Divine Is Fastest Qualifier To June 23 Ed Burke Million Futurity
LOS ALAMITOS, CA—JUNE 9, 2019—
Featuring a trio of previous futurity qualifiers and a total of four horses already with at least one victory, the opening trial to the Grade 1, $1,070,000 Ed Burke Million Futurity figured to be among the strongest of 11 heats contested on Sunday night at Los Alamitos.
The 350-yard dash proved to be even more influential than anyone could have expected after five of the 10 horses that qualified to the June 23 Ed Burke Million final advanced out of this trial.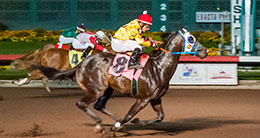 Flokie (19-1), under jockey Jairo Rangel, surprises in the sixth trial Sunday night.
© Scott Martinez
Leading the way was Reliance Ranches LLC's Dreams Divine, who posted the fastest qualifying time of :17.564 while finishing strongly to post a half-length victory. She was followed by Dr. Steve Burns' Javelina Cantina, Sergio Hurtado's Ventura Jess JQM, George and Ruben Villalobos' Corona Required and Hernando Guerra and Salvador Pimienta's Spectacular Corona.
All five of these top finishers advance to the rich futurity final. CLICK HERE for the complete list of qualifiers to the 69th running of the Ed Burke Million Futurity.
A total of 87 juveniles raced over the course of the 11 trials with Dreams Divine living up to her name for her connections.
Ridden by Ruben Castro for trainer Mike Robbins, Dreams Divine improved her career record to three victories in four career starts. Purchase for $112,000 at the 2018 Ruidoso Yearling Sale, the filly Apollical Jess and out of Answer The Dream came into this trail after finishing third to the unbeaten Chayito Cartel in the Grade 2 Robert Adair Kindergarten Futurity on May 19. Prior to that outing, the J. Garvan Kelly and Nancy Yearsley-bred runner won her first two starts, including her Kindergarten trials.
"She's such as good filly," Robbins said. "She's really sound and just gives you 110 percent every time. She didn't get away as well as she usually does but made up for it at the end. I was really surprised how fast she ran."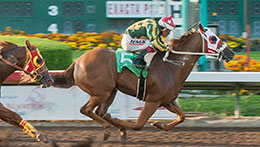 Geothermal, one of two finalists out of the super mare Terrific Energy, qualified under Eduardo Nicasio in the third trial.
© Scott Martinez
Dreams Divine was using a flipping halter for the first time.
"We put the flipping halter on her. That was just to keep her head (straight)," the trainer added. "She started to move her head a little bit and this helps steady her. She's not quite used to it yet. She didn't get away like she can, but she got away good enough."
Castro has piloted 10 winners from his 37 mounts this season, most of those coming aboard horses trained by Robbins.
"He's such a good kid and really mature for his age," the trainer added. "He's 19-years-old . He's very personable and he really can ride."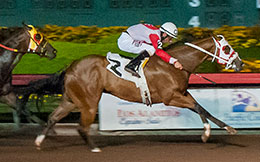 Determined One, under champion jockey Cody Jensen, qualifying in the ninth trial on Sunday.
© Scott Martinez
The biggest surprise of the night came in the sixth trial after J. Francisco Diaz and Jose Flores' Flokie upset his rivals at 19-1 odds while scoring a length victory. The gelding by
Favorite Cartel
and out of the Check Him Out mare Lady Nayen, Flokie posted the second fastest qualifying time. Jairo Rangel piloted the Lazy Creek Ranch-owned runner from post number five.
"The last work he worked :12.2 and that was from the outside post," Flores said. "He worked really good against Made Over, who I really think will be a nice babies. Flokie put it all together from the outside post. He still ran green. He's still a little erratic, but hopefully he can put it all together for the final. He's a monster. He's a big physical horse. Hopefully he pulls up good. We should be okay."
Diaz won the Kindergarten with Chayito Cartel and now has the second fastest qualifier to the Ed Burke Million. It's been a great start for the veteran owner.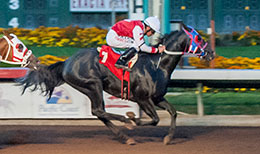 Ramon Sanchez rides Mental Error to victory in the fifth trial on Sunday.
© Scott Martinez
Dr. Burns' Javelina Cantina is a filly by
Foose
out of Grade 1 Golden State Million Futurity winner Little Talks. Javelina Cantina ran solidly throughout on the way to clocking in with the third fastest time with Jonathan Roman up for trainer Mike Casselman.
Trainer Chris O'Dell saddled the fourth and fifth fastest qualifiers in Parsons Ranch's Geothermal and R.D. and Shaun Hubbard's Determined One. Both runners won their respective trials and will be major factors in the big final. Eduardo Nicasio rode Geothermal, while Cody Jensen was aboard Determined One.
"(Determined One) is a very, very nice horse and one of my favorites," O'Dell said. "He's one of the Hubbard horses and I'm sure glad they let me train him. He hasn't done much wrong. He's just a nice horse. My buddy, Cody Jensen, he never lets me down. He gives it his all."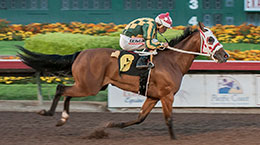 Tea Pod, one of two finalists out of the super mare Terrific Energy, was ridden by jockey Eduardo Nicasio.
© Scott Martinez
Determined One is a gelding by
Hes Relentless
and out of R.D. Hubbard's mare, Royally Sandra. As for Geothermal, she's a homebred filly by Parsons Rock and out of the great broodmare Terrific Energy, who is the dam of 2019 Grade 1 Charger Bar Handicap winner Thermonuclear Energy.
"All three of Terrific Energy's ran well tonight," O'Dell said. "She had two winners and a second."
Terrific Energy will be represented by another one of her babies in the Seperate Interest filly Tea Pod. She finished with the 10th and final time, while posting a trial win.
The other winner to qualify is Bobby Simmons' Mental Error, who posted another blue-collar, near flawless performance on the way to recording the ninth fastest clocking. Mental Error entered this race after finishing second in the Kindergarten final, crossing the wire ahead of Dreams Divine in the process. Mental Error is a colt by Favorite Cartel and out of Iba Quick Chick.
As for the other three qualifiers, the Flores-trained Corona Required is a colt by Corona Cartel and out of nine-time winner No Tools Required, who is the dam of Firing Tools.
The filly Spectacular Corona is also by Corona Cartel and out of Separate Fire, the winner of the Ed Burke in 2011. She was named the AQHA champion 2-year-old filly during that campaign. Eduardo Nicasio rode her for O'Dell.
Apollitical Jess is the sire of Ventura Jess Jqm, who was purchased for $36,000 at the Los Alamitos Equine Sale last year. She entered this trial after posting a half-length maiden win. Her next outing will be in the Ed Burke Million final for trainer Felix Gonzalez. Julio De La Torre piloted the sorrel filly.
The second 10 fastest qualifiers on Sunday night are preferred invites to the $30,000 Ed Burke Million Juvenile Invitational which will also runback on Sunday, June 23. For a list of those horses CLICK HERE.
* * * * * ** * * * * * * *
Courtesy of www.losalamitos.com.