RACING THIS WEEK
FEATURES
SERVICES
Katies Easy Moves winning the Grade 1, $155,100 Vessels Maturity on Sunday night at Los Alamitos.

© Scott Martinez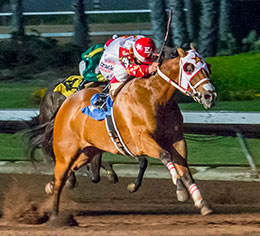 Katies Easy Moves Goes Wire To Wire To Win Grade 1 Vessels Maturity
LOS ALAMITOS, CA—JULY 7, 2019—
With the likes of 7-year-olds BH Lisas Boy and He Looks Hot and the 6-year-old Zoomin For Spuds, it would not have been surprising to see a talented veteran come away with first place honors in the Grade 1, $155,100 Vessels Maturity on Sunday night at Los Alamitos.
Sure enough, it was an elder statesman that won the race for older horses, but the winner was not one of the aforementioned superstars. Instead, the laurels went to Caballo Rapido LLC and Five Livestock Company LLC's 6-year-old gelding Katies Easy Moves, who recorded his first ever Grade 1 victory after holding off 2017 Vessels Maturity winner BH Lisas Boy by a half-length. Sent off at 11-1 odds, Katies Easy Moves covered the 400 yards in :19.473 from post number three.
Ridden by Eduardo Nicasio for trainer Monty Arrossa, Katies Easy Moves earned a provisional berth to the prestigious Grade 1, $600,000 Champion of Champions thanks to this victory, his first trip ever to the sport's most prestigious race for older Quarter Horses. Katies Easy Moves had been close before to reaching the top heights of the sport. Bred by Walter Finder, the son of Maknmoves had finished in the top four in five previous Grade 1 events, including a second place finish in the Grade 1 Bank of America Challenge Championship in 2018 and a third place finish in this year's Grade 1 Brad McKinzie Los Alamitos Winter Championship.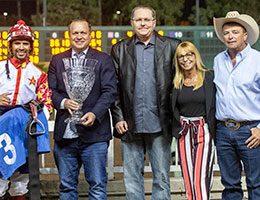 Dave Weaver presented the Vessels Maturity stakes trophy to A Caballo Rapido LLC, Monty Arrossa and Eduardo Nicasio.
© Scott Martinez
"He's been running his heart out," said Jennifer Earll, who along with her husband, Curtis, race under the banner of Caballo Rapido LLC. "I was ready to have heart attack with excitement watching him. It was really exciting. I couldn't hope for anything more. He's been due. He's been facing phenomenal horses and tonight was his night."
The Earlls have been involved with Quarter Horse racing for four years, starting with their purchase of Katies Easy Moves as part of a partnership with Dr. Melinda Roche and Matt Telford of Five Livestock Company.
"We've been in racing since Katies was a 2-year-old," Jennifer said. "He's our very first race horse. He won't be our last, but for now he's our only one. We did have one other horse at one point, but she's now a broodmare for other owners. We just have the one right now."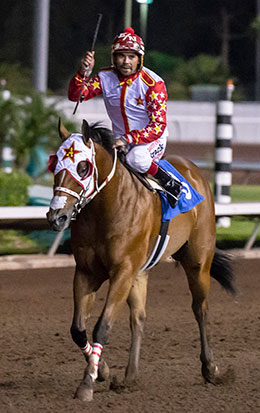 Jockey Eduardo Nicasio and Katies Easy Moves return to the Los Alamitos winner's circle.
© Scott Martinez
And when that one is Katies Easy Moves, one is enough to keep you involved in the biggest races at Los Alamitos. The gelding finished fourth in back-to-back runnings of the Grade 1 Robert Boniface Los Alamitos Invitational Championship and also finished fourth in last year's Vessels final, which was won by the Arrossa-trained Zoomin For Spuds. Katies Easy Moves has won stakes races before at Los Alamitos, scoring back-to-back wins in the
First Down Dash
Handicap in 2017 and 2018. With a berth to the Champion of Champions now in his pocket, the good looking bay can now pick and choose his next few moves.
"We had him dated for the Bank of America California Challenge Championship (on August 10), but we'll probably skip that now," Arrossa said. "I have to thank my crew. I have the best team here. Ramiro Castillo is my assistant and he does a great job. Everardo Velazquez is his groom and he does a fantastic job as well. This horse ran in the Northwest. He ran in Utah and Idaho for his 2-year-old and most of his 3-year-old year. Then they shipped him down here to me. He did go back as a 4-year-old and ran a bit in the Northwest before coming back here. His owners are from the Intermountain region and they love racing at Los Alamitos. This is their first Grade 1. They've been in several with this horse, but they've never capture one until now. He got it done for them tonight."
Katies Easy Moves is Arrossa's second qualifier to the Champion of Champions. The trainer had previously enjoyed Zoomin For Spuds's qualifying effort via his victory in the Winter Championship on February 10. Zoomin For Spuds finished fifth in this race. After Katies Easy Moves and Bill Hoburg's BH Lisas Boy took the top two spots, Lesley Joyner's Jesstacartel ran third with Ed Allred's He Looks Hot finishing fourth.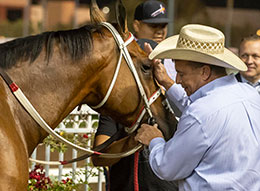 Trainer Monty Arrossa and Vessels Maturity winner Katies Easy Moves.
© Scott Martinez
"We'll freshen both of them up," Arrossa said of Katies Easy Moves and Zoomin For Spuds. "We'll continue pointing them for the Champion of Champions. I don't want to make any excuses for Zoomin For Spuds, but we had him turned out and kind of hurried him back for this one. This was a great field. You add couple of 3-year-olds to this race and this is definitely a Champion of Champions caliber field. No doubt about it. That's what we have to run again. You look at Katies Easy Move's record that's what he runs against every single time. He's facing the Champion of Champions crew each time. Last year, we opted to go in the Bank of America Challenge Championship final instead of the Z. Wayne Griffin Directors Trials. The owners left it up to me. I knew we had to win the race to get into the Champion of Champions and we didn't. We ran second. It was a gamble. We knew we had one choice. It was either go in the Challenge or go in the trials. This year, if we didn't qualify through one of these races we were going to go in the Z. Wayne."
Arrossa doesn't have to worry about that decision anymore. Katies Easy Moves has his Champion of Champions spot firmly secured.
"He broke like a rocket this time," winning jockey Eduardo Nicasio added. "I said 'hey, you better not stop.' The other race we broke and then he stopped in the middle of the track. Tonight I was thinking 'you better finish this time,' and he did. Finally. This horse is awesome. He always tries hard. I'm so happy for Monty and the owners. I felt the horse inside (Jesstacartel) and the horse on the outside (BH Lisas Boy) during the race. I just said to Katie 'come on, you can make it, you can make it.' "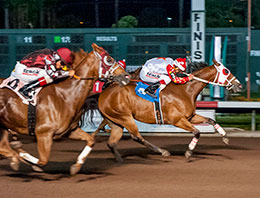 Katies Easy Moves, under jockey Eduardo Nicasio, winning the 2019 Vessels Maturity.
© Scott Martinez
And the Utah-bred gelding did.
For his effort, Katies Easy Moves earned $65,142 to take his lifetime earnings to $285,539. He also improved his record to 15 wins in 35 career starts.
Ridden by 17-year-old rider Oscar Andrade Jr., BH Lisas Boy, a 7-year-old gelding by Mighty Invictus, earned $23,647 for running second from post number eight. A winner in 20 of 39 career starts, BH Lisas Boy increased his earnings to $785,829.
"We didn't break as well as I wanted to, but he still had a game effort," Andrade Jr. said. "He was coming at the end. We passed the number seven horse but the three (Katies Easy Moves) was still in front. BH Lisas Boy has a lot of heart. He tried to catch them. I think a little more yards would have been in our favor. BH Lisas Boy is a runner. He was really calm. He had his mind on running. As soon as we got into the gate he was set to run."
Racing from post number one, Jesstacartel, the runner-up in last year's Champion of Champions, ran a strong race on the way to earning $18,612 for running third. Cruz Mendez piloted the son of One Sweet Jess for trainer Mark Skeen.
The Allred-homebred He Looks Hot, the winner of the 2016 Vessels Maturity, earned $10,857 for his fourth place finish. Zooming For Spuds crossed the wire fifth and was followed by Tarzanito, Matilda Czech, CM Boom Shakalaka, and Eyes The Favorite, who unseated jockey Carlos Huerta after rearing back as the gates opened for the start of the race. Eyes The Favorite walked back to the barn under his own power and did not appear to be injured.
* * * * * ** * * * * * * *
Courtesy of www.losalamitos.com.