RACING THIS WEEK
FEATURES
SERVICES
Communicate (#4) gets his nose in front of Up For You (#1) at the wire in the $101,250 Los Alamitos Maiden Stakes (not black type) Sunday night.

© Scott Martinez


Communicate Earns First Career Win In Maiden Stakes Final; Ilushion Eagle Scratched At The Gate
LOS ALAMITOS, CA—FEBRUARY 21, 2021—
The $101,250 Los Alamitos Maiden Stakes (not black type) was turned upside down before the race even started when track announcer Michael Wrona relayed the message that overwhelming favorite Ilushion Eagle was a late scratched from the race.
With Ilushion Eagle out of the running, the Los Alamitos Maiden Stakes became a wide-open contest and in a battle of maidens, it was Adolfo and Eduardo Perez's Communicate who held off the fast closing Up For You in the final jump to win the 350-yard dash by nose.
Ilushion Eagle, a three-time winner since the December 1st deadline to be eligible for this race, was scratched by the track veterinarian after he sat on the ground after pulling his flipping halter off the starting gate doors. As soon as his body touched the ground, Ilushion Eagle had to scratched as a precaution to protect the horse.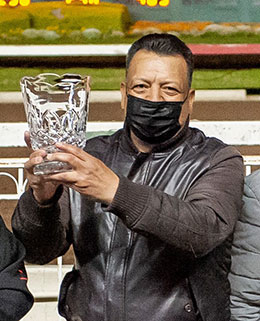 Winning co-owner Adolfo Perez accepts the Los Alamitos Maiden Stakes trophy at Los Alamitos Race Course Sunday night.
© Scott Martinez
"I did not know what had happened at first," Gomez said. "I saw the horse pull the flipping halter off, but that was it. Then I talked to jockey Oscar Peinado and he told me that the horse sat on the ground. They had to scratch the horse. That's the rule."
The silver lining is that Ilushion Eagle returned to the barn safe and sound.
"He didn't have a scratch on him," Gomez said. "He looks perfect. I'm so happy about that. I didn't even see any dirt on him. I was worried that maybe his leg had gotten stuck on something, but nothing like that happened. He came back just fine. I am sad for his owner, Mr. Salome Gallegos, that the horse wasn't able to run tonight. Fortunately, the horse looks perfect."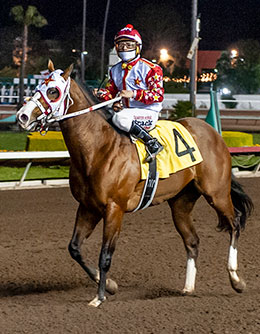 Communicate, under jockey Jose Nicasio, returns after winning the $101,250 Los Alamitos Maiden Stakes (not black type) Sunday night.
© Scott Martinez
Sent off at 7-1 odds, Communicate scrambled out of the gate, but it didn't take him long to have a slight advantage over Up For You. With Jose Nicasio up for trainer Monty Arrossa, Communicate opened up a neck advantage and then stretched it to a half-length.
Then, with about 100 yards left in the race, Up For You started closing the gap between the two leaders. A half-length became a quarter-length and with the finish line quickly approaching less than a neck separated the two. In the final 15 yards, it became a battle of head bobs with Communicate getting the better final lunge to score his first victory in eight starts.
The colt by multiple stakes sire Pyc Paint Your Wagon is out of the Grade 1 winning mare Fovee (by Cuvee TB) and was bred by Gentry Farms. Communicate is a half-brother to Grade 2 stakes placed runner Recognize and stakes winner Lovee Cuvee.
Winning trainer Monty Arrossa walks Communicate into the Los Alamitos Race Course winner's circle following his first career win in Sunday's $101,250 Los Alamitos Maiden Stakes (not black type).
© Scott Martinez
"I liked my horse because he came in doing everything right," winning jockey Jose Nicasio said. "He's a colt so he can get a little distracted. We've worked with him in the gates and he behaved well even thought there was a lot of noise in the gate. He stayed calm, he kept calm and that was a good sign. We came away with the win. Up For You came on strong. She was really good, but thankfully we got the win."
It was Nicasio's brother, David Nicasio, who suggested to Adolfo and Eduardo Perez that Communiate could prove to be a good claim. The owners agreed and claimed the Kentucky-bred for $20,000 in his fifth career start on November 7.
"I thought the horse had a lot of class," David Nicasio said. "We gave it a shot and we got lucky tonight."
"He's the one that finds me horses to claim and he does a good job," said Adolfo Perez, a construction manager in Bakersfield, California. "It's a great feeling to win this race. I have to thank Jose Nicasio and Monty Arrossa for their outstanding work with this horse."
Communicate earned $42,525 for the win to take his career earnings to $47,749. He is eligible to the Los Alamitos Super Derby trials.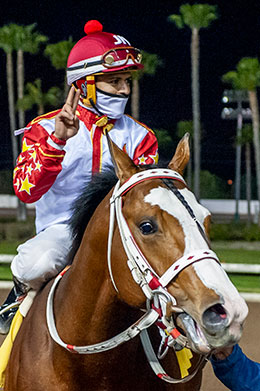 Communicate and jockey Jose Nicasio in the Los Alamitos Race Course winner's circle Sunday night.
© Scott Martinez
"We broke great and stayed out of trouble," Arrossa said of Communicate. "We got lucky at the break and lucky at the head-bob at the end. That's been his best lick once we got him standing there. We put him in flipping halter after we claimed him. The first time we ran him he tried but (stumbled). The second time he broke well in the trials. We will take it anytime you can win a race like this. Those guys are good owners. I've never worked for them before. I'm happy for them."
Owned and bred by Ed Allred and trained by Scott Willoughby, Up For You ran a tremendous race from the rail to earn second place money of $17,213. The Favorite Cartel filly is out of 2013 Governor's Cup Futurity winner Up For It. She's a full sister to Grade 1 stakes finalists Up For Speed and Up And Atem. Oscar Andrade Jr. piloted the sorrel filly.
Gildardo Garcia's Secretly Love, also by Favorite Cartel and out of 2012 Governor's Cup Futurity winner Secretly Hot, finished third. Trained by Valentin Zamudio and ridden by Ruben Lozano, Secretly Love earned $12,150.
The top three finishers were followed by Chance It Now, Steamy, Sullee, Outta Dodge, Too Sass For You, and Special Royal Eagle.
* * * * * * * * * * * * * *
For more info, please contact larace@losalamitos.com. Follow us on Twitter or Instagram at @losalracing or visit us online at www.losalamitos.com.