RACING THIS WEEK
FEATURES
SERVICES
The Bank of America Racing Challenge program is a prime race opportunity for horsemen and women.

© Coady Photography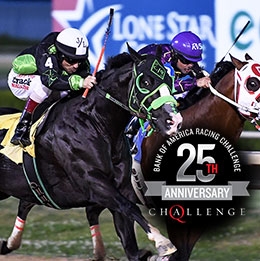 Grab An Opportunity To Get Money And Black Type In The Challenge Program
By Ty Wyant
Q-RACING—APRIL 13, 2018—If you ever needed evidence that the Bank of America Racing Challenge program is a prime race opportunity, then pay attention to a pair of Bank of America regional Challenge races at Sam Houston and Turf Paradise on April 21.
Each of the 440-yard Challenge Championship regional races is a Grade 2 event, with the Bank of America Sam Houston Challenge offering a $67,680 purse and the Bank of America Turf Paradise pot of $46,980. Plus, there were two trials to each of these graded stakes.
In addition to the purse, the winner of each race earns an invitation to the $250,000-est. Bank of America Challenge Championship (G1) at Los Alamitos on November 17. The Bank of America Challenge Championship winner can then stay right there at Los Alamitos and race in the $600,000 Champion of Champions (G1) on December 15. With a winning race over the track in the Bank of America Challenge Championship, that horse will be a danger in the Champion of Champions.
However, you need to start somewhere, and coming up are the opportunities at Sam Houston and Turf Paradise.
The top-three qualifiers to the Bank of America Sam Houston Challenge each came out of the first 440-yard trial. They are Jess Bein The Hero (:21.731), RC Me Leaving You (:21.810) and Careless Lightning (:21.981). Wild Tycoon won the other trial with a time of :22.002.
Juan F. Martinez-Labastida's Jess Bein The Hero is one of those rare horses that just does his job and wins races. He has started 11 times with eight wins and two seconds with five stakes wins, all in Louisiana. The Curtis Crenwelge-trained horse has a Grade 3 win in last June's Miss Polly Classic at Delta Downs.
Bennie and Terri Jeter's RC Me Leaving You polished off his 2017 season with a win in the B.F. Phillips Handicap (G3) in November at Lone Star Park. Two starts ago, he won another Texas-bred stakes at Lone Star Park.
Gerardo Ibarra's Careless Lightning came off a 10-month layoff to finish third in his trial. The highlight of his career was a win in the 2015 John Deere Juvenile Challenge Championship (G2) by one-half length.
The headliner of the show at Turf Paradise will be Christina Robinson's champion and 2016 All American Futurity winner Imperial Eagle. That win accounts for $1.5 million of his $1.8 million in career earnings.
The Tony Sedillo-trained Imperial Eagle closed to win his trial by a nose in :21.453 for the quarter mile. He was the 11-10 favorite. The One Famous Eagle-sired gelding was the strong favorite because of his obvious class and he came off a neck win in the West Texas Maturity (G3).
Orlando Guerrero's second-fastest qualifier, Fighter Gone Wild, thrives at Turf Paradise. He gave Imperial Eagle a tussle in their Bank of America Turf Paradise Challenge Championship trial.
In his prior start back on December 31, he won the Turf Paradise Quarter Horse Championship at 400 yards.
These two races show that the opportunities are out there for Challenge-enrolled horses. Each of the above horses found a good spot to pick up some Grade 2 black type, an enticing pot and the chance to head to Los Alamitos for larger opportunities.
AQHA News and information is a service of the American Quarter Horse Association. For more news and information, follow @AQHARacing on Twitter, watch the AQHA Racing Newscast and visit aqha.com/racing.