RACING THIS WEEK
FEATURES
SERVICES
Home
>
Preview Racing
>Paragon Farms' Newly Purchased Mares Among 10 In Sunday's G1 Charger Bar
Jess Good Reason winning the 2017 Charger Bar Handicap one-year ago at Los Alamitos Race Course.

© Coady Photography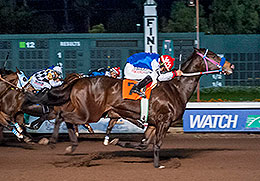 Paragon Farms' Newly Purchased Mares Among 10 In Sunday's G1 Charger Bar
LOS ALAMITOS, CA—JANUARY 6, 2018—
The Texas-based racing operation of Paragon Farms, LLC is a major player in the Grade 1 Charger Bar Handicap on Sunday night at Los Alamitos after purchasing superstar mares Jess Good Reason and Time For Jess at the end of the 2017 racing campaign.
The two Grade 1 winning distaffers now headline a full field of 10 in the prestigious running of the Charger Bar, the first Grade 1 race of 2018.
Headed by Tom Lipar of Conroe, Texas, Paragon Farms was a major player in big races at Ruidoso Dows this year. The operation campaigned Grade 1 finalists High Plains Perry, Tough To Bee and Starfield at the New Mexico track.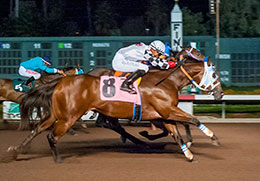 Time For Jess outdueled her now stablemate Jess Good Reason when winning the Grade 1 Mildred Vessels Memorial Handicap.
© Scott Martinez
Lipar has been involved with some top runners as well in past years. He was part owner of the noted stallion
Jesse James Jr
during his solid racing career at Los Alamitos. As a stallion Jess James Jr sired the earners of nearly $13 million before his passing last August.
He is now looking ahead at continuing to build his breeding operation.
"I've been in the racing business full time for about 4 ½ years," Lipar said. "The first year I started breeding horses. I've been racing horses for the past two years. My whole idea was to race horses that I've raised. My good friend Charlie Patterson has owned horses going back several years. Whenever he had a nice colt or filly he would invite to join him at the races. He owned Morning Snow (the 2002 Kindergarten Futurity and Ed Burke Memorial Futurity winner). She missed qualifying to the Los Alamitos (Million) Futurity because of a huge rain storm in her trial. I got to enjoy racing through Charlie and horses like Morning Snow.
"My business went public in 2013-14 so I started to get involved in horse racing. Blane Wood helped me find some yearlings and I had broodmares during my first year. My first year of racing horses was 2016. My goal is to raise good quality horses and I wanted to find good quality mares. We've been on the lookout for good buys. When we heard these two mares were for sale we decided to try and buy them, and we did. I was just going to bring them to Texas to put them in the broodmare band, but trainer Paul Jones, who already had Jess Good Reason, suggested to run them in the Charger Bar because the race was coming up. This will probably be their last starts. We'll retire them both and send them back to Texas to breed."
Lipar plans to be on hand on Sunday night to see the two classy ladies compete in the Charger Bar. Jess Good Reason is the defending winner of this race – having won it for the late John and Cina Sperry - while Time For Jess outdueled her now stablemate when winning the Grade 1 Mildred Vessels Memorial Handicap last year for Spackman Racing.
With 10 of the best mares in the nation in action, the Charger Bar is a tremendous racing setting for these two stars to end their racing career.
"We feel they're top mares and as broodmares we'll try to put them with top stallions that they can match up with," Lipar said. "We're looking at One Famous Eagle, Tempting Dash and I have a share in Corona Cartel."
While top stallions are in the future of Jess Good Reason and Time For Jess, they'll first have to contend with the best racing mares around on Sunday evening.
The field will include the following 2017 stakes winners: Leah and David Nelson's PCQHRA Breeders Derby winner Kiddy Up Cowgirl, Michael Pohl's Grade 1 AQHA Distaff Challenge winner Jess Paint Your Lips and Prairie Meadows Distaff winner Honeymoon Candy, Vincent Treyes' A Ransom Handicap winner Duck Dash N Go, and Parsons Family Limited Partnership's Las Damas Handicap winner Thermonuclear Energy.
The field will also feature Las Damas runner-up Strawfinders Jessee, multiple Grade 1 finalist Jess Mas, and major stakes finalist One Sweet Runner.
Courtesy of www.losalamitos.com.