RACING THIS WEEK
FEATURES
SERVICES
Los Alamitos Race Course has carded three 2-year-old races during Friday's eight-race program.

© Scott Martinez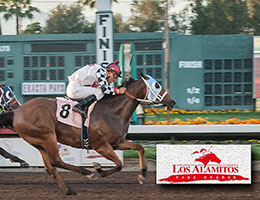 Talented Juveniles To Debut On Friday Night At Los Alamitos
LOS ALAMITOS, CA—APRIL 11, 2018—
Cole Man 47, Razzel Dazzel, Fast Amanda Rose, and Budbreak are among the talented 2-year-olds that will debut during Friday's eight-race program at Los Alamitos.
Twenty-six juveniles – 18 of them fillies – will compete in one of the three races on the card.
The first race for 2-year-olds is race number five headed by the fillies Fast Amanda Rose, Bookofmatches, Shez A Dashin Pyc, and One Way Woman.
Another nine 2-year-old fillies will compete in the seventh race with Razzel Dazzel and Royal Motions headlining the group.
The evening's final race will see eight 2-year-old males headed by Cole Man 47 and Budbreak facing off at 300 yards.
Owned by Marin Jones and Steve McIntyre, Cole Man 47 was very impressive when tying for the fastest 220-yard work of :12.10 on May 27. Trained by Paul Jones, the Utah-bred gelding by Stel Corona and out of the Royal Quick Dash mare GM Silver Dreams will start from post number five on Friday night.
"He is doing very well and was very impressive in his last work," Jones said. "He is starting to wake up and doing better each day. Steve, who owns the dam of Cole Man 47, has had some horses at Los Alamitos from time to time. We foal shared in the breeding of this horse. I had the breeding to Stel Corona and it's his mare. Stel Corona crosses well with mares by Royal Quick Dash. It's a similar breeding that we used with Foose, who is by Stel Corona and out of the Royal Quick Dash mare Summertime Quickie. Cole Man 47 is also co-owned by my wife, Marin, so that adds to the fun as well."
One of Cole Man 47's top rivals in this race is Dennis Jensen and Randy Young's Budbreak, a gelding by FDD Dynasty and out of Paint Your Beau, who also posted a :12.10 workout time on March 27. Budbreak is from the family of Ruidoso Futurity winner Okey Dokey Fantasy ($576,521), Fast Debonair ($455,658) and 2004 Los Alamitos Maiden Stakes winner Royal Medallion.
In the fifth race, the Fast Prize Cartel filly Fast Amanda Rose enters having posted the bullet :12.10 drill on March 31. Owned by EG High Desert Farms and trained by Jesus Nunez, Fast Amanda Rose is from the family of Harems Choice, the dam of the aforementioned stallion Royal Quick Dash, who won the 1991 All American Futurity. Harems Choice is also the mother of the Grade 1 Ed Burke Million Futurity winner and champion First Sovereign and Grade 1 Los Alamitos Million Futurity winner A Regal Choice.
She'll face a field that includes Mario Farias' Shez A Dashin Pyc, who had the fastest 220-yard drill of :12.10 on March 24. The filly by Pyc Paint Your Wagon is out of First Down Dream, the dam of PCQHRA Breeders Derby and Futurity winner Ima Chickie Two ($346,598).
"I really liked (Shez A Dashin PYC) since I saw her as a baby," trainer Jose Flores said. "Mr. Mario Farias purchased her privately from Don and Kathy Meneely after she didn't sell at Ruidoso. She reminds me a lot of Ima Chickie Two because she's light on her feet and has good size."
Ron Hartley's Walk Thru Fire filly Bookofmatches and Andrea and Eddie Jensen's Stel Corona filly One Way Woman are two of the other top fillies in this race.
In the seventh race on the card, Kolleen Ledgerwood's Walk Thru Fire filly Razzel Dazzel comes in after posting bullet works on both March 17 and February 24. Trained by Roberto Dominguez, Razzel Dazzel's dam is Tac Out, a talented runner with stakes placed efforts in the 2013 Matron Stakes, 2012 Debutante Stakes and 2012 Junos Request Handicap at Los Alamitos. Razzel Dazzel's grand-dam is Separate Tac, who was second in the Rainbow Derby and also competed in the All American Derby and Ruidoso Futurity.
Capitol Grille, a half-sister to 2018 El Primero Del Ano Derby runner-up Black Fryday, and Jess Motions, a filly by Apollitical Jess and out of Royal Motions, will also compete in this race.
* * * * * * * * * * * * * * *
Courtesy of www.losalamitos.com.