RACING THIS WEEK
FEATURES
SERVICES
Joe K. Rios' Another Flick Chick will look to get her first career stakes win in the $345,655 Mountain Top New Mexico-Bred Quarter Horse Futurity(RG3) on Saturday afternoon.

© Gay Harris / Ruidoso Downs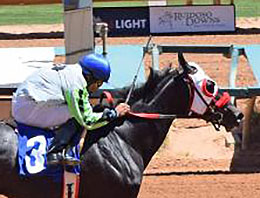 Giles Pair Leads Mountain Top Futurity On Saturday at Ruidoso Downs
RUIDOSO DOWNS, NM—JUNE 11, 2018—
Trainer Wes Giles sends out the two-fastest qualifiers — Another Flick Chick and Jess Fire Chick — in the $345,655 Mountain Top New Mexico-Bred Quarter Horse Futurity(RG3) on Saturday afternoon.
The Mountain Top Futurity is run over 350 yards.
First post time is 1 p.m. with free parking and free general admission.
Joe K. Rios' Another Flick Chick has taken a difficult path to being the fastest qualifier to a major stakes race. She was blind as a yearling and slowly regained her sight.
"She fine," said Giles. "I've had no problems. Sometimes horses with sight problems tilt their head, but she holds it straight. It's not an issue."
Another Chick Flick was a lackluster sixth when she made her career debut in the New Mexican Spring Futurity trials on March 18. She then added about 50 pounds, according to Giles, before starting in the Mountain Top Futurity trials.
A daughter of champion sire First Moonflash, Another Flick Chick made a big step forward in the Mountain Top Futurity trials when she raced to a one-length win in the third of 10 trials. Her time of :18.049 was the quickest mark.
Cipriano Uscanga Vidana rides Another Chick Flick from the fourth post position.
Mike Abraham and Paul Blanchard's Jess Fire Chick went through last summer's Ruidoso New Mexico-bred Yearling Sale and was picked up for $5,000. She made her first start in the Mountain Top Futurity trials and showed she was a bargain with an easy one-and-one-half-length win. The Jess A Chicks-sired filly scored the second-fastest qualifying time of :18.051.
Adraina A. Ramos was up for the trial win and retains the mount with sixth post position.
Between Another Chick Flick and Jess Fire Chick in the middle of the track is R.D. Hubbard and Paul Blanchard's Whooz Your Daddy. The Mike Joiner-trained gelding made his debut in the Mountain Top trials and raced to a handy three-quarter-length win. The Big Daddy Cartel son scored the third-fastest qualifying time of :18.070.
G.R. Carter Jr. will be aboard Whooz Your Daddy.
* * * * * * * * * * * * * * * *
For additional Ruidoso Downs information, go to the new raceruidoso.com, visit the Ruidoso Downs Race Track and Casino Facebook page and follow Ruidoso Downs on Twitter @RuiPressBox.
For Ruidoso Downs racing news CLICK HERE.