RACING THIS WEEK
FEATURES
SERVICES
Johnny Trotter's Grade 1 winner One Sweet Racy will face a strong field in Sunday's Grade 1 $100,000 Charger Bar Handicap at Los Alamitos Race Course.

© Scott Martinez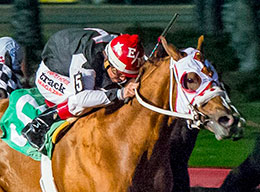 Top Mares Face Off In Grade 1 Charger Bar On Sunday
LOS ALAMITOS, CA—JANUARY 4, 2019—
Major stakes winners Kiddy Up Cowgirl and One Sweet Racy will headline a great lineup of aged mares in the 18th running of the Grade 1, $100,000 Charger Bar Handicap at Sunday at Los Alamitos.
The Charger Bar is the marquee event of a terrific nine-race card that will also feature a $20,000 allowance event featuring a full field of mares, two other allowance sprints, and a 4-˝ furlong Thoroughbred race led by Saddle Club, who enters with a five-race win streak at the Orange County oval First post for this outstanding card is 5:20 p.m.
Owned by David and Leah Nelson, Kiddy Up Cowgirl will look to become only the third back-to-back winner of the Charger Bar. Trainer James Glenn, Jr. saddled the champion aged mare Quirky to consecutive wins in this race in 2015-16. He'll saddle Kiddy Up Cowgirl on Sunday night, while she looks to score her first victory since last year's Charger Bar five races ago.
Eulices Gomez, who rode Quirky in the 2016 Charger Bar and Kiddy Up Cowgirl in her 2018 victory, will pilot the 5-year-old Kiddy Up mare from post number two. Kiddy Up Cowgirl won the Charger Bar from post number one last year. She also won the 2017 PCQHRA Breeders Derby from along the rail for Gomez and Glenn, Jr.
Chris O'Dell has to like his chances in the Charger Bar, as the trainer will saddle three of the top contenders in the 400-yard race. His trio will be led by Johnny Trotter's One Sweet Racy, who has been racing lights out at Los Alamitos since arriving in time to score a daylight allowance victory on July 6.
The 5-year-old Missouri-bred mare then won the AQHA California Distaff Challenge on August 12 before running second in the Grade 1 Mildred Vessels Memorial Handicap on September 23. One Sweet Racy wrapped up her 2018 Los Alamitos campaign by edging Hayden Brothers Ranch's Tickle Ur Fancy by a nose in the Grade 1, $100,000 AQHA Distaff Challenge Championship on December 2.
Five weeks later, One Sweet Racy will go after her third stakes victory when she starts from post number three in the Charger Bar with Cody Jensen in the irons. The winner of $370,423 will be going after her fifth win in 18 career starts.
O'Dell will also saddle stablemates A Political Lady and Thermonuclear Energy, a pair of talented mares each with career earnings of over $300,000 each.
Parsons Ranch's A Political Lady, who has banked $386,685, has won four stakes races and seven total victories during her Los Alamitos career. Jesus Rios Ayala picks up the mount in place of Nicasio, who will stick with Thermonuclear Energy from post number 10 on Sunday night.
The 6-year-old Walk Thru Fire mare finished second in last year's Charger Bar.
Mario Hurtado's Love To Reason BR beat Thermonuclear Energy in the Grade 3 Las Damas Handicap in their last start and also beat the boys in the Schvaneveldt Handicap on October 6. Tickle Ur Fancy is another one to watch after her runner effort in the Distaff.
EG High Desert Farms' Matilda Czech, the richest mare in this field with nearly $400,000 in 16 career starts, multiple Grade 1 finalist Jess Mas, and stakes winners Tough To Figure and Splendid Cause will complete the field.
Leading Jockey Kellie McDaid Steps Away From Riding
Kellie McDaid, the leading Thoroughbred jockey at the recently concluded 2018 meet at Los Alamitos, said on Wednesday morning that she is stepping away from riding effective immediately.
"It's true, I'm not going to ride in 2019," McDaid said.
McDaid said she'll talk about her decision in more detail during the Pacific Coast Quarter Horse Racing Association Awards Banquet to be held on Thursday, January 24. The nighttime Thoroughbred racing leaders are also recognized on this evening.
"I want to thank all of those that supported me, the owners and trainers that gave me opportunities to ride over the past year, and of course to all the horses that put me there," she added. "The racing fans were all so great. I had a year full of memories."
An apprentice jockey in her first year of riding, McDaid finished the night meet with 73 wins from 275 Thoroughbred mounts, winning at a 26.5% rate. She won eight other Thoroughbred races during her career, several of those on longshots during the daytime Southern California Thoroughbred circuit meets at Los Alamitos.
She also won a pair of 870-yard stakes races with Rule He Will, the Truly A Pleasure Handicap and the Snowbound Superstar Handicap. . When McDaid was recognized as the leading rider of the meet on closing weekend, her father, Tony, was on-hand from Ireland to watch her ride.
"Having my dad here to celebrate (was) amazing," she said. "An experience I'll never forget."
A native of Ireland, McDaid, 30, added that she has been thinking about future endeavors for some time now.
"I'm a trained nutritionist and I have a business idea that I'd like to pursue," she added. "The time I spent galloping horses for people like Bob Baffert and others were some great times. I'll still gallop. I'll be around the track. I'm excited about that."
Courtesy of www.losalamitos.com.