RACING THIS WEEK
FEATURES
SERVICES
Home
>
Preview Racing
>Multiple Paint World Champion Painted Turnpike Returns To Action Friday Night At Remington Park
APHA Racing Champion Painted Turnpike will head the $20,000 Paul Harber Memorial. Painted Turnpike Friday at Remington Park.

© Dustin Orona Photography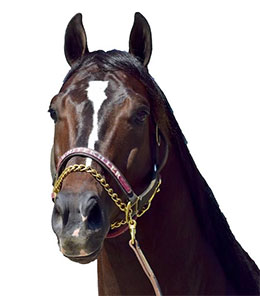 Multiple Paint World Champion Painted Turnpike Returns To Action Friday Night At Remington Park
OKLAHOMA CITY, OK—APRIL 10, 2019—
Paint-horse racing superstar Painted Turnpike is back at Remington Park this Friday, April 12, competing in the $20,000 Paul Harber Memorial. Painted Turnpike has two prior starts, and wins, in the Paul Harber Memorial as he was triumphant in both 2016 and 2018.
Owned and bred in Oklahoma by Nolan Pevehouse of Webbers Falls, Okla. and trained throughout his career by Matt Whitekiller, Painted Turnpike returns to racing while continuing to serve as a stallion. The 6-year-old horse is the all-time leader for Paint horses in earnings with $462,345. He has won 26 of his 29 career attempts and currently enjoys a 14-race winning streak. The last defeat for Painted Turnpike was a second-place finish on Oct. 21, 2016 in the $20,100 Lorelei Derby at Will Rogers Downs in Claremore, Okla.
At Remington Park, Painted Turnpike has been spectacular in winning 13 career races against only one second-place run. He is the all-time leader by wins in the Remington Park American Quarter Horse, Paint and Appaloosa Season. Painted Turnpike enters Friday night's Paul Harber Memorial just two wins shy of the Remington Park all-time record for victories by any breed of horse. Highland Ice and Elegant Exxactsy, both Thoroughbreds, each won 15 races in Oklahoma City.
A son of Pyc Paint Your Wagon (QH) from the SF Royal Quick Flash mare High Class Turnpike, Painted Turnpike will be ridden in the Paul Harber Memorial by jockey Cody Smith who is the only rider to ever guide him in a race.
The field of 10, six Paints and four Appaloosas, for the Paul Harber Memorial at 350 yards, by program and post-position order, with trainer, jockey and morning-line odds:
Jess Cuz: Dee Keener, Jose Vega, 8-1
El Diablo Chicken: Diego Arroyo, Gonzalo Gutierrez, 20-1
D Railed: Dee Keener, Randy Wilson, 15-1
Ruthies Hotrod: Orrin Cogburn, Andrew Samaniego, 30-1
DTL Samureye: Josue Ponce, Jesse Levario, 6-1
Teejus Livin: Carlos Ruiz, Roberto Meraz, 20-1
Painted Turnpike: Matt Whitekiller, Cody Smith, 2-5 (morning-line favorite)
Cap Attack: Dee Keener, Rolando Raudales, 20-1
Bullet Bonnie: Dee Keener, James Flores, 20-1
Apollos Second Sign: Michael Moss, Berkley Packer, 30-1
The Paul Harber Memorial is the 10th of 12 races on Friday night with a scheduled time of 10:01pm. The first race of the evening takes place at 6pm.
The Paul Harber Memorial is named after a founding member of the American Paint Horse Association who helped guide the organization for over four decades.
* * * * * * * * * * * * * * * *
Remington Park is always open for casino gaming. Simulcast horse racing is offered daily. Admission, parking and valet parking are always free at Remington Park. Guests must be 18 or older in order to wager on horse racing or to enter the casino.
Tracked by more than 150,000 fans on Facebook and more than 9,800 Twitter followers, Remington Park has provided more than $215 Million to the State of Oklahoma general education fund since the opening of the casino in 2005. Home to the historic Grade 2 Oklahoma Futurity, to be run for the 78th time on March 23, 2019, Remington Park is located at the junction of Interstates 35 & 44, in the heart of the Oklahoma City Adventure District. For more information, reservations and group bookings please call 405-424-1000, 866-456-9880 or visit remingtonpark.com.