RACING THIS WEEK
FEATURES
SERVICES
Loretta Brasher was inducted into the Arizona Quarter Horse Racing Hall Of Fame.

© Andrea Caudill/Quarter Racing Journal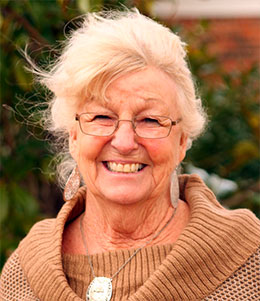 Lorretta Brasher, Cats Policy Named to Arizona Hall of Fame
TUSCON, AZ—MARCH 15, 2017—
AQRA Executive Director Loretta Brasher and Cats Policy were inducted into the Arizona association's Hall of Fame during AQRA's annual awards banquet on Saturday (Mar 11) at Rillito Race Park in Tucson.
The association also announced its 2016 champion horses and held their annual silent auction to raise funds for its scholarship program.
Earlier this year Loretta was honored during the AQHA Racing Champions Ceremony at Heritage Place Sale Company in Oklahoma City with the Mildred N. Vessels Special Achievement Award.
Cats Policy, one of the top Arizona-breds, is a 1979 gelding by Reb's Policy (TB) from the stakes-winning House Cat (TB) mare Catspaw. He was bred by Dr. F.I. Skinner and Bill Byrne of Globe, Arizona and raced in Byrne's name.
Cats Policy won 22 of 49 races over seven seasons at the track, with 14 seconds and five thirds.
As a 3-year-old in 1982, the gelding ran second in the Gila County Derby. He set a track record in a 4 ½ length allowance win at Turf Paradise. The next year he finished third to the talented Thoroughbred Special Hank in the Governor's Speed Handicap at Albuquerque. Cats Policy earned $38,330 at a time when purses were much lower.
Las Vegas Ranch homebred Arizona Icon, a son of Texas Icon from the Feature Mr Jess mare Jess Perfect Girl was named AQRA horse of the year. Trained by Matt Fales and ridden by Vince Guerra, the gelding won three of six races, including the AQRA Turf Paradise Futurity and Margie Bryan ASOA Futurity He earned $30,245 in 2016. Arizona Icon also is the Arizona-bred 2-year-old gelding for 2016. Stephen M. Pierce owns Las Vegas Ranch near Prescott.
Ralph and Carolyn Fales were named the champion owners and breeders for 2016, while their son Matt is the champion trainer. Martin Bourdieu is the champion jockey.
Other AQRA champion horses for 2016 include:
Cowboys Dynasty (FDD Dynasty-Mexican Radio by On A High), owned by Alvaro Moneteverde of Nogales, Arizona-bred 2-year-old colt
Frozen Icon (Texas Icon-Icebreaker by Bono Jazz), owned by Martha Wells of Orange, California, Arizona-bred 2-year-old filly
Magnificent Jess (One Sweet Jess-Last To Check Him by Check Him Out), owned by Ugo De La Torre of Anaheim, California, 2-year-old open filly
Heza A Royal Jess (Mr Jess Perry-Im Royal Satin by Royal Quick Dash), owned by H & E Ranch of Scottsdale, Arizona-bred 3-year-old gelding
Fighter Gone Wild (Fighter On Fire-Wanna Know Now by Mr Sailing Easy), owned by Tom Lichlyter of Fruita, Colorado, open 3-year-old gelding
May Be Fantastic SA (Fantastic Corona Jr-Darlin Treis by Tres Seis), owned by Orlando Guerrero of Phoenix
Jess Call Me Fancy (Jess Give It Em-Monique Quick Dash by Royal Quick Dash), owned by Raymond S. Felix of Tucson, Arizona-bred 3-year-old filly Jess A Cowboy (Dejon-Secret Return by Canth), owned by Larry Stark of Prescott, Arizona-bred aged gelding
Eyesa Famous Eagle (One Famous Eagle-Eyesa Glass by Eyesa Special), owned by Yuriana Ramirez of Laveen, open aged gelding
Heat Warning (A Regal Choice-Its A Dry Heat (TB) by Dixieland Heat), owned by Ralph and Carolyn Fales of Coolidge, Arizona-bed aged stallion
Sarah Sota (Ivory James-Kpax by First Down Dash), owned by YN Horse Stables of Tucson, open aged mare
Magical Righter (Righter-BF Fantastic Dream by Mr Eye Opener), owned by Amanda Casper of Marana, Arizona-bred aged mare
Mickey Ward (FDD Dynasty-A Mere Formality by Leaving Memories), owned by Ralph and Carolyn Fales, Arizona-bred distance horse
Old Troubadour (Snowbound (TB)-Sum Chicks Fly by Chicks Beduino), owned by Jesus M. Olivas of Buckeye, open distance horse
Jess Perfect Girl (Feature Mr Jess-Look Both Ways by Dash Thru Traffic), owned by Las Vegas Ranch, broodmare of the year
Texas Icon (Corona Cartel-Jennifer Kate by Vital Sign), owned by Ralph and Carolyn Fales, champion sire.