RACING THIS WEEK
FEATURES
SERVICES
Horsemen and women are urged to contact Florida Legislators and tell them you need their help to keep the Florida quarter horse racing industry alive.

© Coady Photography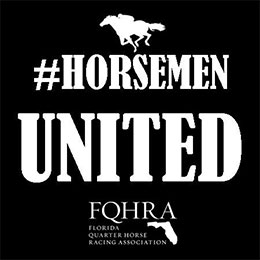 Keep the Florida Quarter Horse Industry Alive
TALLAHASSEE, FL—APRIL 14, 2017—
The Florida Legislature has the opportunity to clarify current law and keep the Florida Quarter Horse racing industry alive, but they need to hear directly from the industry.
Just yesterday, the Florida Senate stood firm in their position to support SB 8 which, among other issues, includes a provision to de-couple Florida Quarter Horse and other racing facilities and renew particular provisions in the Seminole Compact.
The House is standing firm in their position to support HB 7037 which does not de-couple racing facilities but does have provisions to renew portions of the Seminole Compact. However, neither bill clarifies current law to help keep the quarter horse racing industry alive in Florida.
Now that the Senate has named their conferees to Conference Committee on Gaming, please help by immediately contacting the following members of the Florida Senate and ask for their help to save your industry.
FQHRA's position on current pari-mutuels is simple: just follow the law. If a horse track has a permit to run 40 days of horse races, then they should be required to run the appropriate number of live races and not be rewarded with the ability to have card rooms or slot machines without following the intent and spirit of the law.
Please email these Senators by 5:00 pm on Wednesday, April 19th and tell them you need their help to keep the Florida Quarter Horse racing industry alive.