RACING THIS WEEK
FEATURES
SERVICES
Sunland Park Racetrack and Casino plans to run a 72-day mixed meet from December 15, 2017-April 17, 2018.

© Coady Photography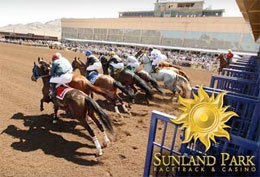 Quarter Horse Twilight Racing Possibility for Sunland Park Mixed Meet Format for 2017-18
SUNLAND PARK, NM—MAY 18, 2017—
Quarter Horse twilight racing, after the March 2018 time change, could be on the agenda for the Sunland Park Racetrack and Casino's 2017-18 race meet. The southern New Mexico racetrack plans to submit its 2017-18 race meet format to the New Mexico Racing Commission during the commission's June 15 meeting in Albuquerque.
Sunland's 72-day meet would feature four days of racing per week with an estimated 70/30 split between Thoroughbreds and Quarter Horses. The meet will begin December 15 and run through April 17, 2018.
Sunland Park's format will be similar to that presented during the track's 2016-17 season. It will be structured as a mixed meet with Thoroughbreds and Quarter Horses competing for an average daily purse structure of more than $220,000.
According to a press release distributed by the track, the main focus in 2017-18 will be on the improvement of the on-track guest experience. The racetrack, known in recent years for its festivals, is looking to draw larger crowds with additional events and the possibility of Quarter Horse twilight racing after the March 2018 time change.
"Sunland Park continues to grow as the winter destination for the horse racing, and we will continue to focus on enhancing the product we deliver to horse racing fans worldwide," said track director of racing operations Dustin Dix.