RACING THIS WEEK
FEATURES
SERVICES
Severe weather in the Oklahoma City metro area knocked out power to Remington Park's lighting system, ending the Thursday night program after six races.

© Remington Park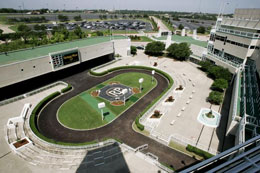 Remington Park Ends Racing Early Thursday Due To Power Outage
OKLAHOMA CITY, OK—MAY 18, 2017—
Severe weather was the norm on Thursday night throughout most of western Oklahoma. As the storms moved to the Oklahoma City metro area, straight-line winds in excess of 50mph knocked out power to the track lighting system, ending the Thursday night program after six races.
The mid-card cancellation is the first of its kind during the American Quarter Horse Season at Remington Park since May 31, 2013 when a tornado outbreak rolled over Oklahoma City, forcing the end of racing that evening after two events.
The first race Friday, May 19 is at 6pm with the $30,000 Mister Lewie Memorial Stakes for Paints & Appaloosas at 400 yards. The action on Saturday, May 20 starts earlier than normal at 4pm with the special simulcast of the Preakness Stakes from Pimlico in Baltimore featured at 5:45pm. Sunday, May 21 is Fiesta at Remington Park with the first race at 1:30pm.
* * * * * * * * * * * * * * * * * * * * *
Tracked by over 124,000 fans on Facebook and 8,800 Twitter followers, Remington Park is the home of the Grade 1, $1,000,000 Heritage Place Futurity on June 3. Remington Park has provided over $167 Million to the State of Oklahoma general education fund since the opening of the casino in 2005. Open daily at 10:30am with free parking and admission, Oklahoma City's only Racetrack & Casino is located at the junction of Interstates 35 & 44, in the heart of the Oklahoma City Adventure District. For more information, reservations and group bookings please call 405-424-1000, 866-456-9880 or visit remingtonpark.com.