RACING THIS WEEK
FEATURES
SERVICES
Horsemen have until today (July 14) consign their yearlings to the 2016 Heritage Place Sale September Yearling Sale.

© Heritage Place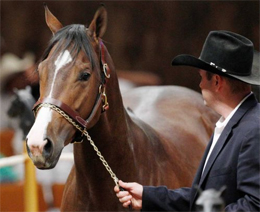 Heritage Place Final Yearling Consignment Deadline Today
OKLAHOMA CITY, OK—JULY 14, 2017—
The final consignment deadline for the 39th Annual Heritage Place Quarter Horse Yearling Sale is today (July 14th). The industry's largest Quarter Horse Yearling sale will be held September 21 through 23 in Oklahoma City.
"Horsemen must get their consignments in today to insure timely printing, circulation and advertising of the Yearlings that will be marketed in this sale," Heritage Place General Manager Spence Kidney said today.
CLICK HERE to download a consignment form or visit the sale company's website at heritageplace.com.
This year's Quarter Horse Yearling Sale will be held September 21st through the 23rd, with the evening of the 20th being a Pre-Sale Party complete with live entertainment, food and drinks.
"Last year we had a great catalog of more than 800 yearlings and due to the tremendous success that we have seen from buyers and consignors over the past year, we are very excited about this year's Heritage Place Quarter Horse Yearling Sale," Kidney said.
Heritage Place continues to make changes and upgrades to their facility as well as adding the most up to date equipment to enhance their business model.
"We have held to this commitment and will continue to look for ways to make improvements. If you haven't been to Heritage Place lately, consider this your invitation to visit us and help celebrate our 39th Anniversary," Kidney said.
For more information on Heritage Place's upcoming sales, visit heritagepalce.com or for assistance with consignments call the sale company at 405.682.4551.