RACING THIS WEEK
FEATURES
SERVICES
Longtime Los Alamitos race caller Ed Burgart announced plans to retire next year.

© Los Alamitos Race Course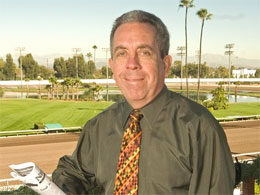 Longtime Los Alamitos Announcer Ed Burgart to Retire Next Year
CYPRESS, CA—JULY 8, 2017—
According to article by Steve Anderson published yesterday on the
Daily Racing Form
website Ed Burgart, the most recognized voice in Quarter Horse racing, will retire next summer.
Burgart, who will turn 66 next year, told DRF that he plans to call the races at Los Alamitos through next June.
"I didn't want to wait until I was making a lot of mistakes," he said. "I wanted to continue while I was still sharp."
Burgart plans to spend more time at his retirement home in Prescott, Ariz., about six hours from Southern California racetrack.
Burgart began working in the Los Alamitos publicity department in March 1977, focusing on radio results.
His deep-throated description of a start – "And away they go!" – has been part of a soundtrack for tens of thousands of races at Los Alamitos since he began calling races in the early 1980s.
Burgart also writes the track's program comments and morning line for the track as well as conducts handicapping seminars.