RACING THIS WEEK
FEATURES
SERVICES
Jeff True has been named General Manager for All American Ruidoso Downs Racing, LLC.

© Jeff True / TRACK Magazine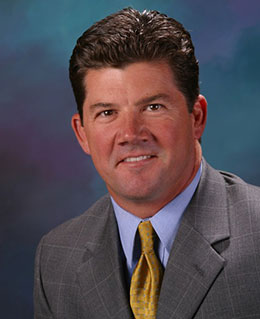 True Named General Manager For Ruidoso Downs' Potential Buyers
True Named General Manager For Ruidoso Downs' Potential Buyers
RUIDOSO DOWNS, NM—JULY 17, 2017—
Jeff True, a 30-year veteran in the horse racing industry, has been named president and general manager of All American Ruidoso Downs Racing, LLC (AARDR). It was announced Tuesday by Stan Sigman, the chairman of the five-man group involved in the purchase of the New Mexico racing plant.
True is a native Texan and 1986 graduate of the horse production and management program at Tarleton State University in Texas. He joined AmTote International in 2010 with the goal of winning the business of the New York Racing Association (NYRA) and building an ADW (advanced deposit wagering platform). When he resigned from AmTote to join the Ruidoso venture, he was senior vice president of sales and was managing the account representative and sales staff while developing clientele in new market areas. He accomplished those goals for AmTote.
"Ruidoso Downs is an iconic track and I am thrilled by the opportunity to join these extraordinary gentlemen, the horsemen and owners, and the larger New Mexico racing community in reaching new levels of success," said True.
Sigman, who is pursuing the Ruidoso venture with fellow horsemen John Andreini, Chicho Flores, Gary McKinney and Johnny Trotter, said, "We are pleased to have Jeff True join our team.
"While all of our partners are accomplished businessmen with extensive experience in the horse industry, none of us have any experience in the very complex business of operating a racetrack. Some of our partners have known Jeff for some time and once we began the executive search process Jeff rose to the top fairly quickly," said Sigman.
The group considered several individuals to lead their group in running Ruidoso Downs, but it soon became clear that True was the best choice for the position, according to Sigman.
True, who has lived in California for 20 years, spent three years with United Totalizator Company and served as its president when it was the vendor for Churchill Downs, NYRA and Keeneland, as well as several clients in Asia and South America. While working with Youbet.com, he managed industry and regulatory relationships throughout the western United States and developed relationships with CBS Sportsline, ESPN and the National Thoroughbred Racing Association (NTRA).
True spent six years at Los Alamitos Race Course, working for five years as the track's director of marketing and simulcasting before becoming its general manager.
After graduating from Tarleton, True spent four years in the Thoroughbred business in California and worked in group sales at Santa Anita before serving as executive director of the Oklahoma Quarter Horse Racing Association and then the Texas Quarter Horse Association.
True and his wife Karen will be relocating to Ruidoso Downs from their present home in Los Alamitos.
Sigman said it is the goal of the group to close the Ruidoso deal — which includes the Billy The Kid Casino on the grounds of Ruidoso Downs — before November 1. The Ruidoso Horse Sale Co. is also being purchased by the five men under the name All American Ruidoso Downs Sales, LLC. Sigman will also chair that entity with Lowell Neumayer continuing as its general manager.
—Ben Hudson, TRACK Magazine