RACING THIS WEEK
FEATURES
SERVICES
Undefeated in five starts in 2017, BH Lisas Boy has been the top older horse at Los Alamitos this season.

© Scott Martinez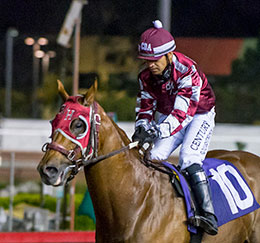 Hoburg Confident Bh Lisas Boy Will Be Back In Action This Year
LOS ALAMITOS, CA—JULY 14, 2017—
Five days after the outstanding Grade 1 winner BH Lisas Boy underwent knee surgery to remove chips on July 7, as first reported by Steve Andersen of
Daily Racing Form
, Bill Hoburg was upbeat about the possibility of having his homebred 5-year-old Mighty Invictus gelding ready in time to compete in the Grade 1, $750,000 Champion of Champions to be held at Los Alamitos on December 16.
"He'll need to be off for about three months," said Hoburg, the owner, breeder, and trainer of the multiple Grade 1 winner. "We received a good prognosis after the surgery, and all signs point to him being off and resting for about two to three months. I am looking at my watch right now and it looks like I have six months, three days and about four hours as I am saying this. I really believe that with three months off, I can get this horse ready for the Champion of Champions."
BH Lisas Boy has been the top older horse at Los Alamitos this season. Undefeated in five starts in 2017, BH Lisas Boy earned berths to the Champion of Champions with wins in the Grade 1 Los Alamitos Winter Championship and Grade 1 Vessels Maturity. He also won the Kaweah Bar Handicap. BH Lisas Boy began to show signs that something was bothering him a few days after the Vessels Maturity, which was held on Sunday, July 2.
"The horses walked out of his stall with no limp," Hoburg explained. "But we are with these horses 10 hours a day, and if something is bothering them they will tell you if you are paying attention. He was pointing that right leg a bit. He was trying to shift his weight off of it. I had a doctor take (images) in order to figure out if it was something that we could manage or if we needed to operate. After I looked at the photos, I knew that we needed it addressed. I called Dr. Wayne McIlwraith and we had him at his medical facility by Friday night. He was operated on Saturday morning, and he was back in his own stall by noon on Saturday. I was so impressed by Dr. McIlwraith's facility and the great job done there with the horse."
Hoburg is now doing everything possible to make BH Lisas Boy comfortable in his recovery period.
"He's doing really well. He's pain free. He's a good patient. We change bandages every day. He stands like a statue. He is trying to let us help him. He's such a nice, calm horse. We'll have to pass the other races, but maybe it's a blessing in disguise that it happen this early. We've taken care of it, and we'll have a fresh horse. I'm looking at the positives. I am planning to see him lineup in the Champion of Champions. Nothing ever comes easy. You have to work for things. We'll do the best that we can."
Courtesy of www.losalamitos.com.