RACING THIS WEEK
FEATURES
SERVICES
Memorial service for long-time Los Alamitos Race Course executive Brad McKinzie will be held on Monday, August 21.

© Los Alamitos Race Course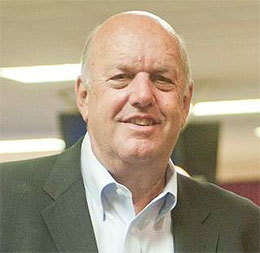 Memorial Service for Brad Mckinzie Set August 21 at St. Hedwig Catholic Church in Los Alamitos
LOS ALAMITOS, CA—AUGUST 10, 2017—
A memorial service for long-time Los Alamitos Race Course executive Brad McKinzie will be held on Monday, August 21 at noon at St. Hedwig Catholic Church in Los Alamitos.
Brad McKinzie was co-founder of the Finish Line Self Insurance Group and one of the driving forces in bringing daytime Southern California Thoroughbred racing back to Los Alamitos Race Course. He passed away from renal carcinoma on Sunday (see related story). He was 62-years-old.
In lieu of flowers, please consider a contribution to The UCLA Child and Adult Neurodevelopmental (CAN) Clinic. Checks can be made payable to The UCLA Foundation, and please write CAN Clinic in memory of Brad McKinzie in the memo line. Donations can be sent to:
UCLA Health Sciences Development
In care of Alan Han, Director of Development, Neuroscience 10945 Le Conte Avenue, Suite 3132
Los Angeles, CA 90095
The UCLA Child and Adult Neurodevelopmental (CAN) Clinic is part of the UCLA Center for Autism Research and Treatment in the Jane and Terry Semel Institute for Neuroscience and Human Behavior at UCLA. The CAN Clinic provides multidisciplinary assessments and evidence-based treatment for children, adolescents, and adults with neurodevelopmental conditions and social development impairments related to autism spectrum disorder, developmental delays, and genetic conditions.
For more info on CAN call 310-825-1546.
Courtesy of www.losalamitos.com.