RACING THIS WEEK
FEATURES
SERVICES
Fly Baby Fly debuts in the top spot in this week's AQHA Racing National Poll for 2-year-olds with 96 of 100 possible votes.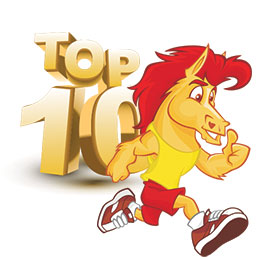 Fly Baby Fly Jumps to Top of AQHA Racing National Poll for 2-Year-Olds
AMERICAN QUARTER HORSE ASSOCIATION—SEPTEMBER 7, 2017—
After an impressive victory in Monday's $3-million All American Futurity (G1) at Ruidoso Downs, Fly Baby Fly made her debut in this week's AQHA Racing National Poll for 2-year-olds and landed at the top of the list with 96 of 100 possible votes.
The Oklahoma-bred filly earned $1.5 million for her 1½-length win in the 440-yard contest, which boosted her bankroll to $1,585,200 to lead all horses this year. She joined her sire, One Famous Eagle, and her dam, Higher Fire, as a millionaire.
Eagle Jazz, winner of the Grade 1 Ruidoso and Rainbow futurities at Ruidoso, dropped from first to second this week. The winner of seven of eight starts this year took his All American trial by daylight but just missed out on qualifying for the final.
Bigg Daddy, the runner-up as the betting favorite in the All American, jumped from No. 9 last week to No. 5 this week.
In the poll for older horses, Hold Air Hostage reaffirmed his position at the top with an eye-catching 2¼-length win in the $1,365,908 All American Derby (G1) on Sunday. The gelded son of Apollitical Jess ran his winning streak to five and picked up his third stakes win of the year to go with the Rainbow Derby (G1) and Heritage Place Derby (G2). His latest win also earned him a berth in the $750,000 Champion of Champions (G1) this December at Los Alamitos.
Also at Ruidoso this past weekend, reigning world champion Jessies First Down dominated the $200,000 All American Gold Cup (G1) and moved up to second in the poll from third last week. Owner Ted Abrams indicated that the 6-year-old gelding will race in the $330,000 Bank of America Challenge Championship (G1) on October 14 at Prairie Meadows. A win in that race would earn him a spot in the Champion of Champions.
The older-horse poll also welcomed a newcomer, as 2015 world champion Heza Dasha Fire debuted at No. 6 after winning the Go Man Go Handicap (G1) at Los Alamitos on Sunday, his eighth career Grade 1 and his first since October 2016.
NATIONAL RANKINGS, 3-YEAR-OLDS AND OLDER
HOLD AIR HOSTAGE (99)
JESSIES FIRST DOWN (91)
BH LISAS BOY (57)
BODACIOUS EAGLE (52)
ZOOMIN EFFORTLESSLY (48)
HEZA DASHA FIRE (46)
TOUGH TO BEE (39)
MAGICAL JESS (31)
DUPONTE (14)
APOLLITICAL OK (12)
HE LOOKS HOT (11), FLASH N BLING (10), THAT RICO (10), HIGH PLAINS PERRY (8), RUNNING DRAGON (5), TIME FOR WINE (4), HEZA LOUISIANA DASH (3), POLITICALLY CORRUPT (3), DASH QUICK PERRY (2), IMAQTPIE (2), SAM CROW (2), PERCYJONES (1).
NATIONAL RANKINGS, 2-YEAR-OLDS
FLY BABY FLY (96)
EAGLE JAZZ (92)
UPTOWN DYNASTY (72)
NYMERIA (60)
BIGG DADDY (59)
KVN CORONA (58)
THIS IS AN EAGLE (32)
DASHNUNDER AFULLMOON (23)
LA VENCEDORA (19)
HOTSTEPPER (9)
J FIRE UP (7), SIXES FLASH (7), FIRE AND SASS (4), JESSE LANE (3), SUENOS DINEROS (3), TOGETHER TO THE END (3), BLUE EYED FANCE (1), HES LIMITLESS (1), JUST ANOTHER NATURAL (1).
AQHA News and information is a service of the American Quarter Horse Association. For more news and information, follow @AQHARacing on Twitter, watch the AQHA Racing Newscast and visit www.aqharacing.com.