RACING THIS WEEK
FEATURES
SERVICES
All-time leading sire First Down Dash will soon have his own coffee label as part of a fundraising effort.

© Los Alamitos Race Course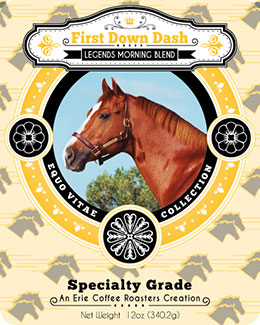 A Blend With Legendary First Down Dash On Its Label For A Great Cause
LOS ALAMITOS, CA—SEPTEMBER 8, 2017—
The great Quarter Horse champion stallion
First Down Dash
will soon have its own coffee label as part of a fundraising effort launching later this month at
eriecoffeeroasters.com
.
Profits from the sale of the coffees will go to fund horse retirement, re-homing, and retraining facilities. efforts. In addition, 10% of the profits will go to equine based charities as directed by the owner of the horses whose likeness, image, and story are featured in the created product.
In the case of First Down Dash this 10% is being directed to the Scoop Vessels Scholarship Foundation managed by the AQHA. The balance of profits from the sale of First Down Dash-Legends Morning Blend are going to provide support to A Home For Every Horse (ahomeforeveryhorse.com).
All of the coffees are sourced from small family farmers in the countries of origin. A collection of blends have been created with each one featuring a famous racehorse on the label. Famous Thoroughbreds, Harness horses, Quarter Horses, and show horses will be featured on the label.
First Down Dash, Quarter Horse racing's all-time leading sire and the winner of the 1987 Champion of Champions at Los Alamitos, is featured as First Down Dash-Legends Morning Blend label.
Available blends will include a variety of grinds (whole bean, French Press, Espresso grind, and Drip). Coffees in 12 oz. and 5 lb. bag options are available. The coffees will be sold separately and as part of gift baskets. The product will begin shipping September 18 with ordering available at eriecoffeeroasters.com.
Pre-launch, bulk orders or special requests can be made via email at info@eriecoffeeroasters.com or dpkell2000@yahoo.com.
Courtesy of www.losalamitos.com.