RACING THIS WEEK
FEATURES
SERVICES
Leading jockey Roy Baldillez will return to racing aboard Legacy Eagle in Saturday's Grade 1 Texas Classic Futurity at Lone Star Park.

© Robert Edwards
Roy Baldillez Returns After Retiring Four Years Ago to Ride in Texas Classic Futurity Saturday
GRAND PRAIRIE, TXóOCTOBER 28, 2017ó
He finished eighth aboard Dash Through Fire in the Grade 1, Los Alamitos Two Million Futurity in December of 2013. As it turned out that would be the race that jockey Roy Baldillez proverbially rode off into the sunset. No one knew he would be retiring from a riding career that spanned some 28 years, not even Baldillez himself, thatís just the way it worked out.††††
The 57-yr-old Baldillez has had a career to be proud of. He's won just about every graded stakes race any rider could hope to win in their career. The pinnacle of course, was the All American Futurity, Americaís richest Quarter Horse race. Baldillez won it in 2011 aboard Ochoa who was recently inducted into the Texas Horse Racing Hall of Fame. †
Another among his long list of notable wins was the Texas Classic Futurity in 2007 aboard Illegal Memories. He has won numerous riding titles at several tracks during his career including two titles at Lone Star Park in 1999 and 2002. The list goes on. †
Baldillez said he hadnít entertained any thoughts about returning to riding since that final mount at Los Alamitos. Then the call came from trainer Trey Wood asking if he was interested in coming back to ride, not just any race, but the Grade 1, $873,616 Texas Classic Futurity, and not just any horse, but the fastest qualifier, Legacy Eagle one of five qualifiers conditioned by Wood. †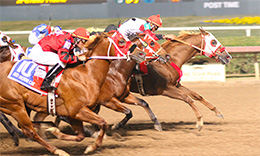 Roy Baldillez wining the 2007 Texas Classic Futurity aboard Illegal Memories.
© Reed Palmer Photography
"How do you turn that down," said Baldillez as he gathered his gear, put away years ago, and readied for the early morning drive he'd make to Lone Star Park Tuesday. "Iím happy with what I do now and not considering going back to a full-time riding career."
Baldillez didnít turn the offer down, he accepted. Saturday, November 11, he will be seeking his second Texas Classic Futurity win aboard trainer Trey Wood's fastest qualifier, Legacy Eagle.
"Trey and I go way back. I was on his first stakes winner in El Paso back in 2006," he said. "The horse ran in Treyís dadís name, but he had done all the hands on conditioning to get the horse ready for that race."
Legacy Eagle has only one career win. He finally broke his maiden in the trial race on October 21 that got him here. The gelded son of One Famous Eagle has competed in four other futurity trials, not making the cut in any until this.
Legacy Eagle is owned by Johnny Trotter & Randy Geiselman. He is the fourth choice in the morning line at 9-2. The favorite is Hotstepper at 5-2, trained by Sleepy Gilbreath followed by Cartel Cupid at 7-2, trained by Trey Wood, and third choice is This Is an Eagle at 4-1, trained by Leon Bard. The entire field from the rail out with jockey and morning line odds is:
Cartel Cupid (Ricky Ramirez, 7-2)
Starfield (Rodrigo Vallejo, 20-1)
This Is a Deal Too (James A. Flores, 8-1)
Factual Basis (Russel Hadley, 12-1)
Legacy Eagle (Roy Baldillez, 9-2)
Streakin Seis Corona (Luis Vivanco, 15-1)
Thecartelofmiracle (Manuel Gutierrez, 15-1)
This Is an Eagle (Francisco Calderon, 4-1)
Hotstepper (Cody Jensen, 5-2)
Another Shot (Raul Ramirez, Jr., 15-1)
Approximate post time for the 25th running of the Grade 1, $873,616 Texas Classic Futurity is 10:47 p.m. Itís the scheduled 10th race this Saturday, November 11.
Though he said he wonít go back to a regular riding career the possibility surely exists, especially if he were to win Saturdayís futurity, but for now he says heís content with the direction his life has gone and happy at what he does, which is running the Bucks & Barrels Ranch in Pilot Point, Texas, formally the Matlock Rose Quarter Horse Ranch, where he and his wife Angela also reside.
* * * * * * * * * * * * * * * *
Lone Star Park at Grand Prairie, a Class I racetrack operated by Texas Partners LSP and GG LSP. The track offers a 26-day 2017 Fall Meeting of Champions Season, which opens Friday, September 15 and concludes on Saturday, November 11. Live racing will be held three days a week, Thursday, Friday & Saturday at 6:35 p.m. For more information on Lone Star Park visit LoneStarPark.com or follow us on Facebook and Twitter.
Lone Star Park is also home to the multi-million dollar simulcast racebook, sports bar and event venue, Bar & Book. The 36,000-square foot venue is open to the public 363 days a year.
Dtl Samureye, under jockey Jesse Levario, drives to victory in the Grade 1 Lone Star Speedhorse Paint & Appaloosa Futurity Saturday night.