RACING THIS WEEK
FEATURES
SERVICES
The final weeks of racing approaches for horses to make a move in the AQHA Racing National Poll.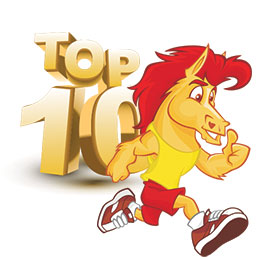 Jessies First Down, Fly Baby Fly Atop QHA Racing National Polls
AMERICAN QUARTER HORSE ASSOCIATION—DECEMBER 6, 2017—
After a big change last week when reigning world champion Jessies First Down took over the top spot in the AQHA Racing National Poll for older horses, there was virtually no change in this week's polls as voters, racing fans and horsemen await the big year-end races.
Last week's poll saw Jessies First Down move past two-time Grade 1 winner Hold Air Hostage after a daylight win in the $150,000 Zia Park Championship (G1). Jessies First Down is expected to make one more start this year in the $350,000 Championship at Sunland Park (G1) on December 31. While Hold Air Hostage is finished racing for the year, four horses in the top 10 – Heza Dasha Fire, BH Lisas Boy, The Fiscal Cliff and Chazaq – are set to run in the $750,000 Champion of Champions (G1) on December 16 at Los Alamitos.
In the 2-year-old rankings, All American Futurity (G1) winner Fly Baby Fly remained at the top. The $1,745,450 Los Alamitos Two Million Futurity (G1) on December 17 will include No. 4-ranked J Fire Up, and the $200,000 Sunland Park Winter Futurity (G3) on December 31 could also affect the final poll of 2017.
NATIONAL RANKINGS, 3-YEAR-OLDS AND OLDER
JESSIES FIRST DOWN (98)
HOLD AIR HOSTAGE (92)
HEZA DASHA FIRE (68)
BH LISAS BOY (57)
THE FISCAL CLIFF (41)
BODACIOUS EAGLE (40)
ZOOMIN EFFORTLESSLY (32)
APOLLTICAL CHAD (29)
TOUGH TO BEE (26)
CHAZAQ (22)
JESS GOOD REASON (10), MAGICAL JESS (9), FLASH N BLING (6), HE LOOKS HOT (5), APOLLITICAL OK (4), HIGH PLAINS PERRY (3), JESS PAINT YOUR LIPS (3), TIME FOR JESS (3), RUNNING DRAGON (1), TIME FOR WINE (1).
NATIONAL RANKINGS, 2-YEAR-OLDS
FLY BABY FLY (97)
EAGLE JAZZ (90)
KVN CORONA (73)
J FIRE UP (63)
UPTOWN DYNASTY (62)
BIGG DADDY (44)
THECARTELOFMIRACLE (38)
NYMERIA (32)
THIS IS AN EAGLE (20)
LA VENCEDORA (13)
HOTSTEPPER (7), THREE BAR CARTEL (4), APOLLITICAL BROOKE (2), DASHNUNDER AFULLMOON (2), MATILDA CZECH (2), SIXES FLASH (1).
AQHA News and information is a service of the American Quarter Horse Association. For more news and information, follow @AQHARacing on Twitter, watch the AQHA Racing Newscast and visit www.aqharacing.com.