RACING THIS WEEK
FEATURES
SERVICES
Sunland Park Racetrack and Casino owner Stan Fulton died on January 4.

© Courtesy Sunland Park Racetrack & Casino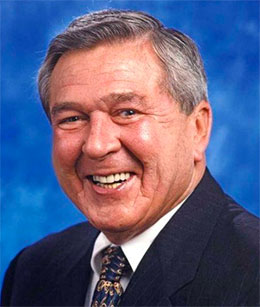 Stan Fulton, Sunland Park Racetrack & Casino Owner Dies at 86
SUNLAND PARK, NM—JANUARY 9, 2017—
Stan Fulton, owner of Sunland Park Racetrack & Casino and pioneer of slot machines, died January 4 in Las Vegas, Nevada where he lived. He was 86.
Funeral services are scheduled for Friday, Jan. 12, at Hancock Presbyterian Church, 17 E. Main St., Hancock, Maryland.
Born and raised in Maryland, Fulton joined the Air Force in the 50's before beginning a business career that included owning a Western Auto store, building cable TV systems, producing precision electronic components and building an apartment complex in Las Vegas.
He entered the gaming industry in the 1970's. His company, Fortune Coin, developed the first video slot machine. He later founded Anchor Coin, which became Anchor Gaming which operated a slot machine route in Nevada, casinos in Colorado and developed innovative gaming machines including Wheel of Gold, the predecessor to Wheel of Fortune.
After selling his interest in Anchor Gaming, Fulton purchased Sunland Park Racetrack and Casino in 2000 and developed the Grade 3 Sunland Park Derby into prep race for horses competing on the Kentucky Derby trail.
The track races both Quarter Horses and Thoroughbreds.
Fulton also enjoyed success campaigning such Thoroughbred runners as A.P. Warrior, Fire Slam. It's No Joke and St. Averil.
Recognized for his philanthropy, he was one of New Mexico State University's largest donors and gave more than $17 million to the University for a football stadium and endowments for professorships.
He also donated to the city of Sunland Park and the Gadsen Independent School District.
Fulton is survived by his children, Deborah, Elizabeth (Thomas), Stanley (Mahalie), Michael, Lucinda and Virginia; and twelve grandchildren.