RACING THIS WEEK
FEATURES
SERVICES
Caesars Entertainment's took another step toward closing their purchase of Indiana Grand Racing & Casino and Hoosier Park Racing & Casino in Indiana this week.

© Indiana Grand Racing & Casino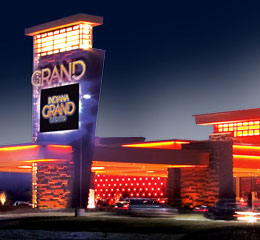 Caesars' Hoosier Park and Indiana Grand Purchase Clears Hurdle
SHELBYVILLE, INóJANUARY 10, 2018ó
Caesars Entertainment's purchase of Indiana Grand Racing & Casino in Shelbyville and Hoosier Park Racing & Casino in Anderson cleared a federal regulatory hurdle this week.
According to industry news reports, the Federal Trade Commission has waived the waiting period mandated under the Hart-Scott-Rodino Antitrust Improvements Act of 1976.
Caesars, which emerged from bankruptcy in October, is purchasing Centaur Gaming, owner of the two Indiana racinos, for $1.7 billion.
"This important milestone brings us one step closer to completing this acquisition, which is part of our post-emergence, inorganic growth strategy," Frissora said in a media release.
The Indiana Gaming Commission and Indiana Horse Racing Commission have yet to approve the acquisition. Industry insiders expect that approval to be forthcoming. Caesars officials expect the acquisition to be completed before July.
Quarter Horse and Thoroughbred racing will be held at Indiana Grand beginning Tuesday, April 17 through Wednesday, Nov. 7.
The 120-day season will provide live racing Tuesday, Wednesday, Friday and Saturday with first post set at 2:05 p.m. each day except Saturday when racing begins at 6:05 p.m. Two additional racing dates have been set for Thursday, July 19 and Thursday, Sept. 6 with a post time of 2:05 p.m.