RACING THIS WEEK
FEATURES
SERVICES
OQHRA will honor their 2017 champions during an awards banquet February 24 in Tulsa.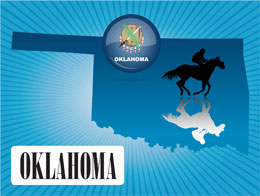 Oklahoma Champions Announced, Awards Banquet Set February 24
OKLAHOMA CITY, OKóJANUARY 11, 2017ó
The OQHRA Awards Banquet and Annual Meeting will be held at 6:00 PM on February 24, 2018 at the Hard Rock Hotel and Casino in Tulsa, Oklahoma.
Champions of the Oklahoma Quarter Horse Racing Association, the Oklahoma Horse Racing Commission Oklahoma Bred Program, the American Quarter Horse Racing Association and the American Paint Horse Association will be recognized.
Reservations are required for attendance. For reservations call the OQHRA office at (405) 216-0440 or email OQHRA2@aol.com.
To make a hotel reservation - hardrockcasinotulsa.com or call (800) 760-6700 - use group code OQHRA2018.
* * * * * * * * * * * * * * * *
2017 OKLAHOMA RACING CHAMPIONS
AQHA Regional Champion Aged Gelding
Give It To Shaq
Owned by: Tana Lea Caldwell

AQHA Regional Champion Aged Mare
Hardtoget
Owned by: Louis and Trey Malecheck

AQHA Regional Champion Aged Stallion
Big Lew
Owned by: Reliance Ranches LLC

AQHA Regional Champion 3 Year Old Colt
Famousist Owned by: Denis and Julie Schoenhofer

AQHA Regional Champion 3 Year Old Filly
Eye Eye Captain
Owned by: David N. Clonts

AQHA Regional Champion 3 Year Old Gelding
Knockemout Capi
Owned by: Sanches M./ Mireles S./ Ezquivel M.

AQHA Regional Claiming Champion
Distance Deal
Owned by: Vance A. Matlock

AQHA Regional Distance Champion
Give It To Shaq
Owned by: Tana Lea Caldwell

AQHA Regional Champion Breeder
Bobby D. Cox

AQHA Regional Champion Trainer
Eddie D. Willis

AQHA Regional Champion Jockey
Mario Delgado

AQHA Regional Champion Owner
Darling Farms

OHRC Champion Two Year Old Quarter Horse Filly
La Vencedora
Owned by: Terry Mclean

OHRC Champion Two Year Old Quarter Horse Stallion/Gelding
Cloud Ridge
Owned by: Randy J Davis

OHRC Champion Three Year Old Quarter Horse Filly
Apollitical Scout
Owned by: Karen & Preston Cloud

OHRC Champion Three Year Old Quarter Horse Stallion/Gelding
Bout Tree Fiddy
Owned by: Patrick Swan & Rusty Allred

OHRC Champion Aged Quarter Horse Mare
VF Red Surprise
Owned by: Cuadra Ladrilleros Ltd Co

OHRC Champion Aged Quarter Horse Stallion/Gelding
Sam Crow
Owned by: Terry Baber

OHRC Champion Leading Quarter Horse Dam of Racing Stock
Red Temptress
Owned by: Safari Racing LLC

OHRC Champion Leading Quarter Horse Sire of Racing Stock
Apollitical Jess
Owned by: Rancho El Cabresto Inc.

OHRC Leading Breeder of Quarter Horse Racing Stock
Bobby D. Cox

OHRC Leading Quarter Horse Racing Stock
Owner Cuadra Ladrilleros Ltd Co

OQHRA Oklahoma Owned Aged Mare
VF Red Surprise
Owned by: Cuadra Ladrilleros Ltd Co

OHRC Champion Two Year Old Appaloosa Horse of the Year
Apollos Second Sign
Owned by: Michael W. Moss

OHRC Champion Three Year Old Appaloosa Horse of the Year
Col Bucks
Owned by: Gary Vaughan

OHRC Champion Aged Appaloosa Horse of the Year
Douxda Dash
Owned by: Linda K Taylor

OHRC Leading Appaloosa Dam of Racing Stock
Allies Apollo
Owned by: Ronna J Lively

OHRC Leading Sire of Appaloosa Racing Stock
Pyc Paint Your Wagon
Owned by: PYC LLC/Reliance Ranches LLC

OHRC Champion Appaloosa Horse of the Year
Apollos Second Sign
Owned by: Michael W. Moss

OHRC Champion Two Year Old Paint Horse of the Year
Hotwiredotcom
Owned by: Shirley Wheeler

OHRC Champion Three Year Old Paint Horse of the Year
Streakin Turnpike
Owned by: Tommy L Davenport

OHRC Champion Aged Paint Horse of the Year
Painted Turnpike
Owned by: Nolan D Pevehouse

OHRC Champion Leading Paint Dam of Racing Stock
High Class Turnpike
Owned by: Nolan D Pevehouse

OHRC Champion Leading Sire of Paint Racing Stock
Royal Quick Flash
Owned by: Larry D Steele

OHRC Champion Paint Horse of the Year
Painted Turnpike
Owned by: Nolan D Pevehouse

OQHRA Oklahoma Foaled 2 Year Old Filly
Fly Baby Fly
Bred by: Julianna Hawn Holt

OQHRA Oklahoma Foaled 2 Year Old Gelding
Eagle Jazz
Bred by: Juan A. Medina

OQHRA Oklahoma Foaled 3 Year Old Gelding
Hold Air Hostage
Bred by: Luis Miguel Albores Gleason

OQHRA Oklahoma Foaled 3 Year Old Mare
Apollitical Scout
Bred by: Dan & Louise Jones

OQHRA Oklahoma Foaled 3 Year Old Stallion
Tempting Splash Dash
Bred by: Bob McClure

OQHRA Oklahoma Foaled Aged Gelding
Bodacious Eagle
Bred by: La Feliz Montana Ranch LLC

OQHRA Oklahoma Foaled Aged Mare
Jess Good Reason
Bred by: Preston and Karen Cloud

OQHRA Oklahoma Foaled Aged Stallion
Mr Pyc To You
Bred by: The Mixer Ranch

OQHRA Oklahoma Owned 2 Year Old Colt
Call Me Cole
Owned by: Reliance Ranches

OQHRA Oklahoma Owned 2 Year Old Filly
Ima China Rush
Owned by: Sherry Gilmore

OQHRA Oklahoma Owned 2 Year Old Gelding
A Jordon Reed
Owned by: Kendrix Brothers

OQHRA Oklahoma Owned 3 Year Old Gelding
Hold Air Hostage
Owned by: Darling Farms

OQHRA Oklahoma Owned 3 Year Old Mare
JC Wild Rose
Owned by: Jose Cervantes

OQHRA Oklahoma Owned 3 Year Old Stallion
Gronkowski
Owned by: Victory Farms

OQHRA Oklahoma Owned Aged Gelding
Cobalt Creek
Owned by: VWP Jr Inc.

OQHRA Oklahoma Owned Aged Mare
VF Red Surprise
Owned by: Cuadra Ladrilleros Ltd

OQHRA Oklahoma Owned Aged Stallion
Big Lew
Owned by: Reliance Ranches

OQHRA Champion Oklahoma Broodmare
MS Southern Dynasty
Owned by: Sam W. Green

OQHRA Champion Oklahoma Stallion
Apollitical Jess
Owned by: Ranch El Cabresto

OQHRA Champion Oklahoma Breeder
Weetona Stanley

OQHRA Champion Oklahoma Owner
Darling Farms

OQHRA Champion Oklahoma Trainer
Clint Crawford

OQHRA Champion Oklahoma Jockey - Money Earned
James A Flores

OQHRA Champion Oklahoma Jockey - Races Won
Mario Delgado

OQHRA Remington Park Leading Quarter Horse Jockey
Ricky Ramirez

OQHRA Remington Park Leading Quarter Horse Owner Money Earned
Terry McLean

OQHRA Remington Park Leading Quarter Horse Owner Races Won
Terry and Irene Stennett

OQHRA Remington Park Leading Quarter Horse Trainer Money Earned
Clint Crawford

OQHRA Remington Park Leading Quarter Horse Trainer Races Won
Trey Wood

OQHRA Fair Meadows Leading Quarter Horse Jockey
Daniel Torres

OQHRA Fair Meadows Leading Quarter Horse Owner
Rogelio Marquez

OQHRA Fair Meadows Leading Quarter Horse Trainer Races Won
John Weghorst

OQHRA Fair Meadows Leading Quarter Horse Trainer Races Won
Luz Chavira

OQHRA Fair Meadows Leading Quarter Horse Trainer Races Won
R C "Mike" Howell

OQHRA Will Rogers Downs Leading Quarter Horse Owner Money Earned
Rogelio Marquez

OQHRA Will Rogers Downs Leading Quarter Horse Owner Races Won
Bella Vista Farms

OQHRA Will Rogers Downs Leading Quarter Horse Owner Races Won
Julie Schoenhofer

OQHRA Will Rogers Downs Leading Quarter Horse Jockey
Mario Delgado

OQHRA Will Rogers Downs Leading Quarter Horse Trainer Money Earned
Eddie D. Willis

OQHRA Will Rogers Downs Leading Quarter Horse Trainer Races Won
Carlos Ruiz