RACING THIS WEEK
FEATURES
SERVICES
Longtime analyst Les Onak has attracted many fans to Quarter Horse racing, as well as helping many Thoroughbred players understand how to handicap Quarter Horses.

© Los Alamitos Race Course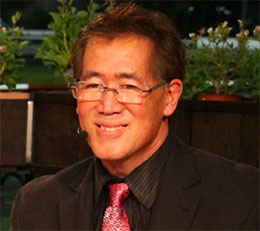 Q-Racing Blog: One Of Our Own Needs Our Help
By Ty Wyant
AQHA RACING-FEBRUARY 9, 2018--If you have ever watched "The Quarters" on TVG, Les Onaka has helped you. His insights surpass respected because of his commitment to extensive research and Quarter Horse racing. These extraordinary virtues have also attracted fans to Quarter Horse racing and more Thoroughbred players now understand how to handicap Quarter Horses.
Onaka needs our help. Right now.
Due to diabetes, asthma and complications, Onaka is not able to work. He's home now, but could return to the hospital at any moment. He takes up to 14 medications every day and has extreme issues covering expenses. Some days, he has passed on taking some of his medications to save money.
Dave Weaver, a TVG host, has worked with Onaka for 18 years on air. Their friendship goes back even further, as they sold tip sheets in front of Los Alamitos as teenagers.
"Les and I have called Los Al home," said Weaver. "It's great that we've gotten to work together."
Les has serious needs. He has an autistic son who needs to be supported, he needs to take care of himself and the stress is building.
Weaver has set up a GoFundMe account at les-onaka-medical-fund.
Behind-the-scenes support has gratefully occurred, however, we all need to show our support for Les, a close member of our Quarter Horse racing family.
CLICK HERE for complete story.
Courtesy aqha.com/racing.