RACING THIS WEEK
FEATURES
SERVICES
CDFA has ended an EHV-1 Quarantine on a barn at Los Alamitos Race Course.

© Los Alamitos Race Course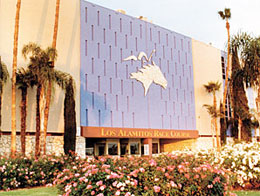 CDFA Releases EHV-1 Quarantine on Barn at Los Alamitos Race Course
LOS ALAMITOS, CA-MARCH 6, 2018--
According to the Equine Disease Communication Centers website
equinediseasecc.org
the California Department of Food and Agriculture (CDFA) released the quarantine for Equine Herpesvirus Myeloencephalopathy at the Los Alamitos Racecourse on Monday (Mar. 5).
The quarantine stemmed from a horse used to pony Quarter Horses at Los Alamitos Race Course during races was euthanized and later tested positive for a "wild-type" strain of equine herpesvirus type 1.
California Horse Racing Board equine medical director Rick Arthur said the deceased horse was last used to pony horses on February 11. He was euthanized February 18 and the barn where the animal was housed is under quarantine. The six Quarter Horses he ponied during races going back to February 7 were being closely monitored.
According to Arthur there have not been any other confirmed cases of EHV-1 at Los Alamitos.