RACING THIS WEEK
FEATURES
SERVICES
North Dakota Horse Park in Fargo will contest six days of live racing in 2018.

© Dave Wallis / The Forum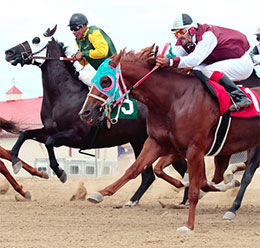 North Dakota Horse Park To Hold Six Days Of Horse Racing This Summer
FARGO, ND--MARCH 6, 2018--
The North Dakota Horse Park here will host six days of racing this summer - two fewer days than last year.
Horse Park official announced last month that the state Racing Commission approved $120,000 in funding for purses for the races and $200,000 for promotions.
General manager Mike Schmitz said new this year are premium seating areas.
"I'm pumped, I know the fans are," Schmitz said in a news release. "We've been receiving reservations for VIP seating for over a month."
Races are slated for the afternoons of Saturday and Sunday, July 14 and 15; Saturday and Sunday, July 21 and 22; and evening races Friday and Saturday, July 27 and 28.
In November, The Forum reported that the Racing Commission granted the Fargo track seven race days. However, one day has been dropped.
The commission sets race dates and funds purses and promotions for the Fargo track and Chippewa Downs in Belcourt, N.D. The funding comes from online betting companies that pay taxes to be licensed in the state.