RACING THIS WEEK
FEATURES
SERVICES
All entries to the 2018 Oklahoma Futurity and Oklahoma Derby was required to be hair tested in order to remain eligible for entry to this weekend's trials.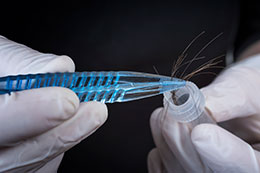 OQHRA Implements New Requirements For Oklahoma Futurity and Derby
OKLAHOMA CITY, OK--MARCH 8, 2018--
The OQHRA board implemented the new requirements this year in response to an outcry from owners wanting the opportunity to run in a Futurity and Derby that offered a level playing field.
Of course some horses drop for physical reasons or because the owners or trainers think they may not be ready for these early races, but over the course of the payment period which began October 15, there were a total of 132 individual horses paid into the futurity and 64 in the derby.
"The new twist to this old race was that every horse still eligible as of January 20th was required to be hair tested in order to remain eligible for entry to the trials," OQHRA Executive Director Debbie Schauf said this week.
The testing was conducted under the supervision of the OQHRA as the administrator of the race. OQHRA brought in a veterinarian recommended by UC Davis Maddy Lab to do the collections at two sites, Lone Star Park and Heritage Place.
The OHRC had required that no testing could be conducted on the grounds of an Oklahoma track.
Two biologic samples were collected from each horse, a hair sample and a cheek swab for a saliva sample.
Out of 122 eligible to be tested in the futurity and 57 eligible to be tested in the Derby there were 117 Futurity horses tested and 52 Derby horses. There were no ineligible horses from the futurity testing, and only 4 ineligible as a result of the Derby testing.
All testing was conducted the week of January 22 through 25 and on February 9.