RACING THIS WEEK
FEATURES
SERVICES
The 2019 American Quarter Horse graded stakes list has been released.

© Dustin Orona Photography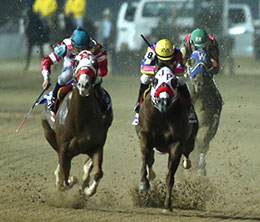 2019 American Quarter Horse Graded Stakes List Released
AMERICAN QUARTER HORSE ASSOCIATION—APRIL 13, 2018—
American Quarter Horse Association, April 13, 2018 - The 2019 AQHA Graded Stakes have been approved and are now available.
CLICK HERE for the complete 2019 graded stakes.
Stakes grades are reviewed by the Graded Stakes Committee and ultimately approved by the AQHA Executive Committee.
Effective in 2018 and continuing in 2019, the Downs at Albuquerque Fall Championship will be a Grade 1 race.
There are 17 additional races that will have grades promoted in 2019.
The Dash For Cash Derby, Higheasterjet Handicap, Oklahoma Futurity and Paul's Valley Handicap will all be elevated from a Grade 3 to a Grade 2.
Moving up from a Restricted Grade 2 to a Restricted Grade 1 is the Remington Park Oklahoma-bred Futurity.
Moving from a Restricted Grade 3 to a Restricted Grade 2 is the Mountain Top Futurity and Texas Quarter Horse Association Sale Futurity.
Non-graded stakes that will become Grade 3 stakes include the Evangeline Downs Futurity, Firecracker Derby, King Rick Rack Stakes, Sunland Park Winter Juvenile Invitational and Valley Junction Futurity.
Restricted non-graded stakes that will become Restricted Grade 3s are Delta Downs Louisiana-bred Derby, the Easy Jet Stakes, the Garanones Futurity, Louisiana Quarter Horse Breeders Association Derby, and Remington Park Oklahoma-bred Derby.
There are also a few stakes that will have their grades lowered.
The Southwest Juvenile Championship will drop from a Grade 1 to a Grade 2. In addition, both the Amelia Belle Stakes and Oklahoma Horsemen's Association Mystery Futurity will go from Restricted Grade 3s to Restricted non-graded stakes.
For more information and a list of the 2019 graded stakes, visit aqha.com/racing.
AQHA News and information is a service of the American Quarter Horse Association. For more news and information, follow @AQHARacing on Twitter, watch the AQHA Racing Newscast and visit aqha.com/racing.