RACING THIS WEEK
FEATURES
SERVICES
Longtime Thoroughbred trainer Hal Wiggins and StallioneSearch's Greg Thompson in Ruidoso last summer.

© StallioneSearch
StallioneSearch ''Film Of The Month'' Debuts Tuesday (TRAILER-VIDEO)
DALLAS, TX—MAY 11, 2018—
Next Tuesday (May 15) StallioneSearch will continue their ''Film Of The Month'' series of short films being sponsored by
Horse Logic
on StallioneSearch.com, as well as on Facebook.
The installment for the month of May 2018 is entitled The Thoroughbred Eye For The Quarter Horse Buy. In the short film, retired Thoroughbred trainer Hal Wiggins and Greg Thompson of StallioneSearch.com utilizes Wiggins decades of experience in picking thoroughbred yearlings, and attempt to apply some similar principles to pick a winning Quarter Horse yearling or two at the 2017 Ruidoso Select Yearling Sale.
Wiggins and Thompson utilize a hypothetical $80,000 budget to pick out a minimum of two yearlings in a fantasy horse racing scenario. The film will have a follow up in the future as the careers of the yearlings chosen develop.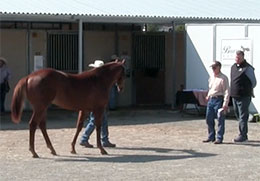 Hal Wiggins and Greg Thompson at the 2017 Ruidoso Select Yearling Sale.
For over three decades Wiggins was a successful horsemen, best known as the trainer of 2009 Horse of the Year Rachel Alexandra, who won the 2009 Kentucky Oaks(G1) in legendary fashion.
Other top runners trained by Wiggins included multiple stakes winner Chorwon, Morris Code, Cielo Gold and Leo's Gypsy Dancer. In recent years, he has worked as a Steward as well as serving on the Board of Directors of the Texas Thoroughbred Association and as President of the Paddock Foundation, and as Integrity Officer at Oaklawn Park in Hot Springs, Arkansas.
Rachel Alexandra, trained originally by Wiggins before being sold after her win in the Kentucky Oaks(G1), retired with over $3.5 Million earned, as well as being named 2009 Horse Of The Year. When she won the 2009 Preakness Stakes, the second leg of the Thoroughbred Triple Crown, she became the first filly to win the race in 85 years.
CLICK HERE to view the trailer for May's Film Of The Month: The Thoroughbred Eye For The Quarter Horse Buy.
* * * * * * * * * * * *
Horse Logic is a nutritional supplement company, offering a wide array of equine products that can be shipped directly to your barn or stable. A product-line that is trusted by horse professionals from all over the nation, Horse Logic Professional is being endorsed by some of the leaders in the racing industry. Visit Horse Logic at
horselogicpro.com
.