RACING THIS WEEK
FEATURES
SERVICES
Former Quarter Horse trainer Bob Baffert became only the second trainer in history to saddle two Triple Crown winners.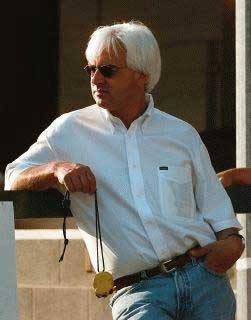 Former Quarter Horse Trainer Becomes Second Person in History To Saddle Two Triple Crown Winners
ELMONT, NY—JUNE 9, 2018—
Hall of Fame Trainer Bob Baffert saddled his second Triple Crown winner on Saturday when Justify led wire-to-wire to win the 1-˝ mile Belmont Stakes in Elmont, New York.
The son of Scat Daddy is only the second undefeated Triple Crown winner in history. Seattle Slew won six straight races when he took the crown in 1977.
Justify has a perfect 6-for-6 record that includes winning the Kentucky Derby(G1), Preakness Stakes(G2), Belmont Stakes(G1) and Santa Anita Derby(G1). He has earned $3,798,000.
Making his first start in February of 2018 Baffert said on the live NBC telecast, following his third Belmont Stakes training victory, that getting Justify ready to run in three races in only five weeks was ". . . like training Quarters Horses to run in trials and finals."
Jockey Mike Smith, a native of Dexter, New Mexico also gave a shout out to the Quarter Horse world after winning the race. On his ride back to the winner's circle he told NBC's Donna Brothers that Justify ". . .shot out of the gate like he was going 440 yards at Ruidoso New Mexico."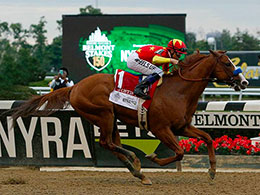 Justify, under jockey Mike Smith, claims horse racing's Triple Crown after winning the Belmont Stakes on Saturday.
© Belmont Park
After rising to the top in the Quarter Horse racing world in the 90's, Baffert switched to Thoroughbreds to became one of the most successful trainers in the history of horse racing.
He quickly won his first of five Kentucky Derby victories in 1997 with Bob and Beverly Lewis Silver Charm. He went on to saddle first Saturday in May winners' Real Quite in 1998, War Emblem in 2002, American Pharoah in 2016 and Justify in 2018.
The brilliant American Pharoah became Thoroughbred racing's 12th Triple Crown winner in 2016, breaking a drought that had stretched some 37 years. Justify is only the second horse to win the Triple Crown in 40 years.
With today's victory, Baffert became the second trainer in history to win the Triple Crown twice. James E. "Sunny Jim" Fitzsimmons was the first trainer to win the Triple Crown more than once; he trained both Gallant Fox (1930) and his son Omaha (1935) for the Belair Stud.
Baffert has been voted the Eclipse Award as the sport's outstanding trainer four times (1997, 1998, 1999 and 2015). Below are a list of his wins in the American Classics.
Justify (2016 Kentucky Derby, Preakness S., Belmont S.)
American Pharoah (2015 Kentucky Derby, Preakness S., Belmont S.)
Lookin At Lucky (2010 Preakness S.)
War Emblem (2002 Kentucky Derby, Preakness S.)
Point Given (2001 Preakness S., Belmont Stakes)
Real Quiet (1998 Kentucky Derby, Preakness S.)
Silver Charm (1997 Kentucky Derby, Preakness S.)