RACING THIS WEEK
FEATURES
SERVICES
One of the 2018 All American Futurity buckle styles available from Maynard Buckles.

© Maynard Buckles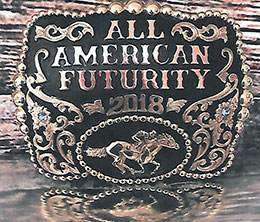 Maynard Buckles Releases 2018 All American Futurity Buckle Designs
THOREAU, NM—JULY 11, 2018—
Maynard Buckles of Thoreau, New Mexico have made their 2018 All American Futurity buckles available for pre-purchase prior to the Labor Day event.
Doing business since 1981, Maynard Buckles have produced four-buckles to commemorate the $3-Million All American Futurity at Ruidoso Downs. The buckles are highly sought after accessories that display the 2018 race year for the event contested at the classic Quarter Horse distance of 440 yards.
Each buckle design is available for pre-purchase, shipped directly to you, for $135 which includes shipping.
To inquiry about purchasing a Maynard Buckles' 2018 All American Futurity belt buckle, call toll-free to (888) 822-7954 or (505)862-7253 or email them at sales@maynardbuckles.com.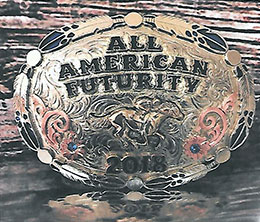 2018 All American Futurity Buckle
© Maynard Buckles
Ralph Maynard, the Hallmark of Maynard Buckles, started the company in a small Southwestern town in New Mexico in 1981. A former world-class Saddle Bronc rider, Ralph entered a highly competitive market where he created a renowned reputation for his line of trophy buckles. Now walking closely in her father's footsteps is Kelsi Maynard.
Kelsi was actively involved in rodeo activities and desired a business venture of her own. Growing up in her father's business, she was the most likely to take over the reins so her father could pursue other things.
Ralph Maynard who rode professionally for ten years relied on the strength of his good name and his knowledge of rodeo to build a business recognized throughout the United States.
2018 All American Futurity Buckle
© Maynard Buckles
The business expanded to include handmade trophy saddles, spurs, trophy watches with hand tooled bands and custom designed faces, and other jewelry, gifts and accessories. If a design can be imagined, it can be brought to life by Maynard Buckles artistic staff.
As popularity and mystique of the rodeo design buckles increased, specialty design buckles and items came into vogue for country western singers, football players, car racing fans, tennis and golf tournament promoters, dignitaries and the like, allowing Maynard Buckles to expand their creative energy, widening the field for new ideas.
Most of the creations consist of 16 gauge Sterling Silver or Sterling filled material. The designs, events and lettering are generally crafted from 22 gauge Jewelers Gold filled, Jewelers Gold, Copper, Sterling Overlay, Sterling Silver or 10 Karat Gold filled material.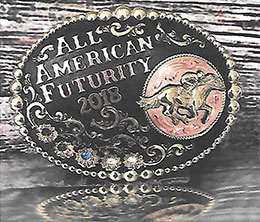 2018 All American Futurity Buckle
© Maynard Buckles
Approximately 30-40 local Navajo silver and goldsmiths are employed with Maynard Buckles on a full time basis in the locality between Grants and Gallup, New Mexico. All or the products produced by Maynard Buckles is 100% Made in the United States.
The handcrafted buckles are shipped to many countries including but not limited to Canada, Mexico, Germany, Australia and Spain.
Maynard Buckles handcrafts everything from belt-buckles, money clips, bracelets, to spurs and knives from their New Mexico headquarters. You can view some of their merchandise at maynardbuckles.com.