RACING THIS WEEK
FEATURES
SERVICES
Off his win in the Grade 1 Vessels Maturity Sunday night, Zoomin For Spuds stepped into the AQHA Racing National Poll for Older Horses moving from unranked last week to a tie for No. 3 this week.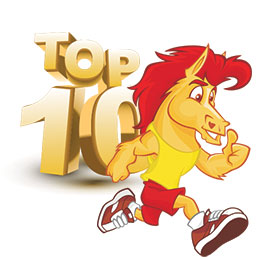 Zoomin For Spuds Speeds Up AQHA Racing National Poll
AMERICAN QUARTER HORSE ASSOCIATION—JULY 11, 2018—
After earning a third consecutive berth in the Champion of Champions (G1) with a victory in Sunday's Vessels Maturity (G1) at Los Alamitos, Zoomin For Spuds flew into the AQHA Racing National Poll for older horses, moving from unranked last week to a tie for No. 3 this week. Coincidentally, Zoomin For Spuds is even in the rankings with BH Lisas Boy, with whom he nearly deadheated in the Vessels, prevailing by just 2/1000ths of a second over the fellow Idaho-bred. Earlier in the year, BH Lisas Boy defeated Zoomin For Spuds by a neck in the Brad McKinzie Winter Championship (G1) to earn his berth in the Champion of Champions.
Two-time reigning world champion Jessies First Down, who hasn't raced since winning the Remington Park Invitational Championship (G1) on June 2, remained at the top of the poll.
The ranking order at the top of the 2-year-old poll did not change from last week, but the margins between the top three narrowed considerably. Blue Corazon, winner of the Ruidoso Futurity (G1) in June, held on to the No. 1 spot after winning his Rainbow Futurity (G1) trial but not qualifying for the final at Ruidoso Downs. The son of Coronado Cartel received 91 voting points, just one more than No. 2-ranked Wave Her Down, the winner of the Ed Burke Million Futurity (G1) at Los Alamitos.
Following closely in third was Suze Returns, who finished second to Blue Corazon in the Ruidoso Futurity but won her trial to the Rainbow with the fastest overall time to advance to the $1 million final on July 22.
NATIONAL RANKINGS, 3-YEAR-OLDS AND OLDER
1. JESSIES FIRST DOWN (90)
2. HOLD AIR HOSTAGE (73)
3. (tie) BH LISAS BOY (67)
3. (tie) ZOOMIN FOR SPUDS (67)
5. JESS MOVE YOU (63)
5. KVN CORONA (45)
6. BRUCE ALLMTY (41)
7. DF AJ GREEN LEAVES (29)
8. PYC FUN N FANCY (26)
9. JESS MY KISS (14)
10. (tie) A POLITICAL LADY (7)
10. (tie) IMPERIAL EAGLE (7)

WAGON ON FIRE V (5), VALIANT ROGUE (4), APOLLITICAL SCOUT (2), BODACIOUS EAGLE (2), KIDDY UP COWGIRL (2), MYST FIT (2), JESS BEIN THE HERO (1), SIXES CRYSTAL (1), THERMONUCLEAR ENERGY (1).
NATIONAL RANKINGS, 2-YEAR-OLDS
1. BLUE CORAZON (91)
2. WAVE HER DOWN (90)
3. SUZE RETURNS (82)
4. LONG WAGON HO (64)
5. LYNNDER 16 (61)
6. WICKED AFFAIR (55)
7. ZEE JAMES (40)
8. JESS FIRE CHICK (22)
9. JESS LET IT B (21)
10. GUIDRY PRIDE II (10)

SHAKESHAKESHAKEIT (4), FLYING EAGLE 07 (3), LETHAL LIL (1), SC MONEY MAKER (1), WOKATEE ON FIRE (1).
The integrity of American Quarter Horse racing is of utmost importance to AQHA. As part of a multifaceted effort to ensure integrity, AQHA has instituted a policy concerning awards and publicity that makes horses with racing medication positives and horses trained by trainers with racing medication positives ineligible for the AQHA Racing National Polls. CLICK HERE to read the complete policy.
* * * * * * * * * * * * * *
AQHA News and information is a service of the American Quarter Horse Association. For more news and information, follow @AQHARacing on Twitter, watch the AQHA Racing Newscast and visit aqha.com/racing.