RACING THIS WEEK
FEATURES
SERVICES
Los Alamitos based jockey Oscar Peinado is scheduled to have surgery on Thursday at Long Beach Memorial Hospital.

© Los Alamitos Race Course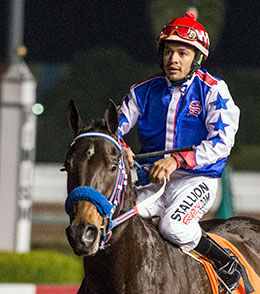 Peinado Injury Update — Jockey to Undergo Surgery on Thursday
LOS ALAMITOS, CA—AUGUST 1, 2018—
Jockey Oscar Peinado is scheduled to have surgery on Thursday (Aug 2) at Long Beach Memorial Hospital.
Peinado has full movement and is in good spirits. He fractured vertebras in his neck and back according to reports. Peinado is expected to be sidelined for approximately eight months according to his agent, April Ward.
He was injured when he was unseated after his mount, Unusual Kiddy, fell during the running of the eighth race on Sunday evening.
Peinado is the fifth leading Quarter Horse rider at this meet with 28 wins. He piloted champion Jess Good Reason to victory in the Grade 1 Charger Bar Handicap here last year.
* * * * * * * * * * * * * * *
Courtesy of www.losalamitos.com.