RACING THIS WEEK
FEATURES
SERVICES
Former World Champion Heza Dasha Fire made his first appearance of the year in the AQHA Racing National Poll for older horses this week.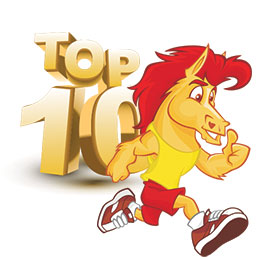 Heza Dasha Fire Enters 2018 AQHA Racing National Poll
AMERICAN QUARTER HORSE ASSOCIATION—AUGUST 2, 2018—
Heza Dasha Fire, the sport's 2015 world champion, made his first appearance of the year in the AQHA Racing National Poll for older horses this week after winning his 2018 debut in Saturday's $100,000 Spencer Childers California Breeders' Championship (RG1) at Los Alamitos.
The now 6-year-old gelded son of Walk Thru Fire has been a consistent presence in the polls since 2014 when he was named champion 2-year-old gelding. His career includes 16 wins and five seconds from 22 starts with earnings of more than $2.2 million.
Jessies First Down, the 2016 and '17 world champion, continues to top the poll for older horses.
In the 2-year-old rankings, Jess Fire Chick moved up two spots to No. 8 this week after taking the $409,680 Zia Futurity (RG1) on Sunday at Ruidoso Downs to remain undefeated in four starts.
MM Fourinthemorning, winner of the $1-million Rainbow Futurity (G1) the previous week, held the first spot in the poll for the second consecutive week.
While there is a light schedule of stakes action this coming weekend, major upcoming events, including the All American Futurity (G1) and All American Derby (G1) trials at Ruidoso Downs, figure to make huge impacts.
NATIONAL RANKINGS, 3-YEAR-OLDS AND OLDER
JESSIES FIRST DOWN (90)
HOLD AIR HOSTAGE (75)
BH LISAS BOY (59)
ZOOMIN FOR SPUDS (57)
JESS MOVE YOU (52)
BRUCE ALLMTY (31)
KVN CORONA (28)
HEZA DASHA FIRE (27)
DF AJ GREEN LEAVES (19)
UPTOWN DYNASTY (11)
PYC FUN N FANCY (10), BIGG DADDY (8), IMPERIAL EAGLE (6), JESS MY KISS (5), WAGON ON FIRE V (5), VALIANT ROGUE (4), A POLITICAL LADY (3), THERMONUCLEAR ENERGY (3), EOS A POLITICAL WIN (2).
NATIONAL RANKINGS, 2-YEAR-OLDS
MM FOURINTHEMORNING (85)
BLUE CORAZON (74)
WAVE HER DOWN (73)
SUZE RETURNS (57) v LONG WAGON HO (47)
LYNNDER 16 (38)
WICKED AFFAIR (35)
JESS FIRE CHICK (30)
ZEE JAMES (16)
LETHAL LIL (10)
DAK (9), POWERFUL FAVORITE (8), JESS LET IT B (5), FLYING EAGLE 07 (4), RAPPID (3), GUIDRY PRIDE II (1).
The integrity of American Quarter Horse racing is of utmost importance to AQHA. As part of a multifaceted effort to ensure integrity, AQHA has instituted a policy concerning awards and publicity that makes horses with racing medication positives and horses trained by trainers with racing medication positives ineligible for the AQHA Racing National Polls. CLICK HERE to read the complete policy.
* * * * * * * * * * * * * *
AQHA News and information is a service of the American Quarter Horse Association. For more news and information, follow @AQHARacing on Twitter, watch the AQHA Racing Newscast and visit aqha.com/racing.