RACING THIS WEEK
FEATURES
SERVICES
AQHA began recording results for races held at Jockey Club de Sorocaba in Avare near Sao Paulo, Brazil on July 14.

© Courtesy Jockey Club de Sorocaba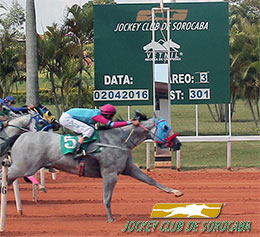 AQHA Begins Recording Brazil Races
AMERICAN QUARTER HORSE ASSOCIATION—AUGUST 8, 2018—
AQHA and its Brazilian affiliate, Associação Brasileira de Criadores de Cavalo Quarto de Milha (ABQM), are making great strides toward increasing the value of American Quarter Horses worldwide.
Through a joint effort to record the performance of registered American Quarter Horses in Brazil, AQHA has recently started to record race results for races held at Jockey Club de Sorocaba in Avare near Sao Paulo, Brazil.
Results are reportable for all eligible, drug-tested races, and will appear not only on an individual horse's past performance lines or performance records, but also contribute to the progeny records for its sire and dam.
The first race recorded in this process was the July 14, $26,799 GP Presidente Da ABQM Derby, which was won by Special Gold Medalbr. Trained by M. Arteman and ridden by A. Arteman, the sorrel stallion races for breeder Erico Braga. Special Gold Medalbr is by Gold Medal Jess and out of the Strawfly Special mare Dominique Special SA. He covered the 400 yards in :19.328.
Amylkar Weisheimer's Over The Moon BR (Panther Mountain-First Regards by First Place Dash) was second.
This is an important step in AQHA's effort to better connect the performance and registration records of American Quarter Horses worldwide with the records and studbook database maintained by AQHA, which currently records the data of nearly 6 million American Quarter Horses. This will result in more complete records from which breeders can make breeding decisions and market their horses, thus adding value to American Quarter Horses around the world.
In Brazil, ABQM has thrived with the Quarter Horse business for nearly 50 years, and produces race and performance horses that are capable of competing on a global scale. While an estimated 60 percent of Quarter Horses in Brazil are eligible to be registered with AQHA, only about 1 percent are currently connected with AQHA's records.
Additional incentives for Brazilian owners to register their horses with AQHA are being launched.
* * * * * * * * * * * * * *
AQHA News and information is a service of the American Quarter Horse Association. For more news and information, follow @AQHARacing on Twitter, watch the AQHA Racing Newscast and visit aqha.com/racing.