RACING THIS WEEK
FEATURES
SERVICES
Cole Man 47 and jockey Ramon Sanchez after winning the $365,000 PCQHRA Breeders' Futurity(G2) Saturday night at Los Alamitos Race Course.

© Scott Martinez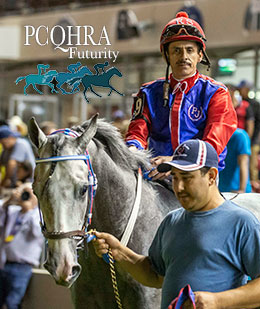 2018 PCQHRA Breeders' Futurity(G2) Final (VIDEO)
CYPRESS, CA—OCTOBER 7, 2018—
-StallioneSearch.com continues its webcast coverage of the 2018 Los Alamitos Equine Sale Weekend of coverage on StallioneSearch.com, and on Facebook.
On this episode, StallioneSearch.com was on hand to capture the running of the $365,000 PCQHRA Breeders' Futurity(G2) Saturday night at Los Alamitos Race Course in Cypress, California.
Post-race interviews with champion trainer Paul Jones are also included in the webcast on StallioneSearch.com. The trainer saddled Cole Man 47 to victory Saturday night, winning his second consecutive PCQHRA Breeders' Futurity. Last year he won the Grade 2 event with champion KVN Corona.
CLICK HERE to watch: PCQHRA Futurity(G2) Final.
Coverage of the 2018 Los Alamitos Equine Sale Weekend Coverage is co-sponsored on StallioneSearch.com by the stallions standing at R/M Racing Stables in Morgan, Utah, and Burns Ranch in Menifee, California.