RACING THIS WEEK
FEATURES
SERVICES
Ajax, Ontario Mayor Steve Parrish (front) and Environment Minister Rod Phillips.

© Toronto Sun / Dave Abel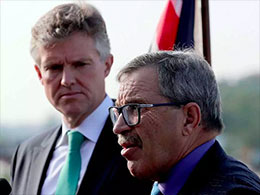 Slots, Quarter Horse Racing To Stay at Ajax Downs
AJAX, ONT—OCTOBER 10, 2018—
A jubilant Ontario Environment Minister Rod Phillips, the MPP for Ajax, and a beaming Mayor Steve Parish jointly announced a deal Tuesday to allow two casinos just over four miles apart in a bid to satisfy two municipalities east of Toronto that have waged a long and bitter fight over the future of gambling in the region.
The province revealed on Tuesday that an agreement-in-principle has been reached to keep open the casino at Ajax Downs, which required a redrawing of the rules by the Ontario Lottery and Gaming Corp. The Ajax casino will compete with a planned mega casino complex in neighboring Pickering.
"In politics, when a politicians keeps his or her promise, it must be acknowledged," said Parish. "A promise was kept here."
The politicians the mayor was referring to were Phillips, Finance Minister Vic Fedeli and Premier Doug Ford.
"This was so important to our community," said Parish, who has been mayor for 23 years and is about to retire on the ultimate high. "It has been responsible for building so much infrastructure here over the years … let alone all the jobs it brought to the table."
Not just the gaming jobs, but those related to Quarter Horse racing which — like the slots at Casino Ajax — was in danger of becoming extinct, as well.
The previous Liberal government, along with the new operator Great Canadian Gaming, had decided to close the slots in favor of opening an exciting, new project called Durham Live, just a few mile away in Pickering. Both casinos will be operated by Vancouver-based Great Canadian Gaming Corp., which got a contract from OLG to run facilities in the Greater Toronto Area last year. Earlier this year, Great Canadian had announced it would be moving the casino at Ajax Downs to Pickering.
Mr. Phillips and Ajax Mayor Steve Parish argued there is room in the market for two casinos because they will offer different experiences. Casino Ajax will have 500 slot machines, down from the current 800, in addition to its existing quarter-horse race track. By contrast, the proposed Durham Live casino is slated to have 2,700 slots and 1,000 table games in addition to hotels and theme parks.
Mr. Parish, who has long fought for his town to keep its casino, said Tuesday's announcement was a "very positive thing" for Ajax in terms of jobs and revenue sharing – his municipality receives an average of $7.5-million per year – in addition to supporting Ontario's only quarter-horse racing facility, which is responsible for 1,700 jobs.
OLG rules previously permitted only one casino in the sprawling suburbs east of Toronto, including Pickering, Ajax and Whitby. The OLG, which reached the agreement-in-principle with the owners of Ajax Downs, said on Tuesday that it had "created a new gaming zone in the GTA, as permitted under existing agreements, to accommodate the retention of slot operations at Casino Ajax."