RACING THIS WEEK
FEATURES
SERVICES
Dash For Cash Futurity(G2) winner Paint Me A Sinner cracked the top 10 AQHA Racing National Poll for 2-Year-Olds this week.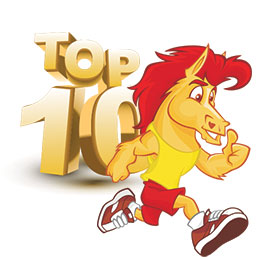 Paint Me A Sinner Cracks Top 10 In AQHA Racing National Poll
AMERICAN QUARTER HORSE ASSOCIATION—OCTOBER 3, 2018—
After a weekend that included three graded futurities and three graded derbies, there were some changes to the latest AQHA Racing National Polls for 2-year-olds and older horses.
In the 2-year-old rankings, Paint Me A Sinner cracked the top 10 after winning the Dash For Cash Futurity (G2) at Lone Star Park. The daughter of PYC Paint Your Wagon debuted at No. 10 in the poll. The winners of the two other graded futurities – Cole Man 47 in the PCQHRA Breeders' Futurity (G2) at Los Alamitos and Eagle Coast in the Hobbs America Futurity (G2) at Zia Park – each received votes to rank No. 11 and 12, respectively.
Apocalyptical Jess, winner of the $3 million All American Futurity (G1) on Labor Day at Ruidoso Downs, continues to top the juvenile rankings.
Among the older horses, the three graded derby winners – EOS A Political Win in the Dash For Cash Derby (G3), Believe Me Irene in the Hobbs America Derby (G3) and Moonie Blues in the PCQHRA Breeders' Derby (G3) – all received votes but not enough to make the top 10.
Jessies First Down, a three-time Grade 1 winner this year and the two-time defending world champion, is again in the No. 1 spot.
The biggest race of this coming weekend could affect the older-horse poll, as Sunday's $125,000 Robert L. Boniface Los Alamitos Invitational Championship (G1) has a list of invited horses that includes six of the top 10: No. 2 BH Lisas Boy, No. 4 Hold Air Hostage, No. 5 Zoomin For Spuds, No. 6 Bodacious Eagle, No. 7 Heza Dasha Fire and No. 8 Tarzanito. The winner of that race also receives a berth in the $600,000 Champion of Champions (G1), which is scheduled for December 16 at Los Alamitos.
NATIONAL RANKINGS, 3-YEAR-OLDS AND OLDER
JESSIES FIRST DOWN (90)
BH LISAS BOY (83)
HOTSTEPPER (78)
HOLD AIR HOSTAGE (57)
ZOOMIN FOR SPUDS (49)
BODACIOUS EAGLE (45)
HEZA DASHA FIRE (38)
TARZANITO (34)
JESS MOVE YOU (19)
JESS RAVIN (12)
KVN CORONA (10), DF AJ GREEN LEAVES (8), FLY BABY FLY (8), EOS A POLITICAL WIN (6), JESSTACARTEL (5), BELIEVE ME IRENE (3), BRUCE ALLMTY (3), MOONIE BLUES (2).
NATIONAL RANKINGS, 2-YEAR-OLDS
APOCALYPTICAL JESS (100)
MM FOURINTHEMORNING (85)
WAVE HER DOWN (71)
BLUE CORAZON (65)
IM JESS SPECIAL V (47)
SUZE RETURNS (41)
LYNNDER 16 (29)
LONG WAGON HO (25)
WICKED AFFAIR (22)
PAINT ME A SINNER (15) (16)
COLE MAN 47 (10), EAGLE COAST (9), JESS FIRE CHICK (9), POWERFUL FAVORITE (7), DANJER (6), MPSHINNING (4), ZEE JAMES (3), MR COAHUILA (2).
The integrity of American Quarter Horse racing is of utmost importance to AQHA. As part of a multifaceted effort to ensure integrity, AQHA has instituted a policy concerning awards and publicity that makes horses with racing medication positives and horses trained by trainers with racing medication positives ineligible for the AQHA Racing National Polls. CLICK HERE to read the complete policy.
* * * * * * * * * * * * * *
AQHA News and information is a service of the American Quarter Horse Association. For more news and information, follow @AQHARacing on Twitter, watch the AQHA Racing Newscast and visit aqha.com/racing.